UK SALUTES SOUTH ASIAN WAR HEROES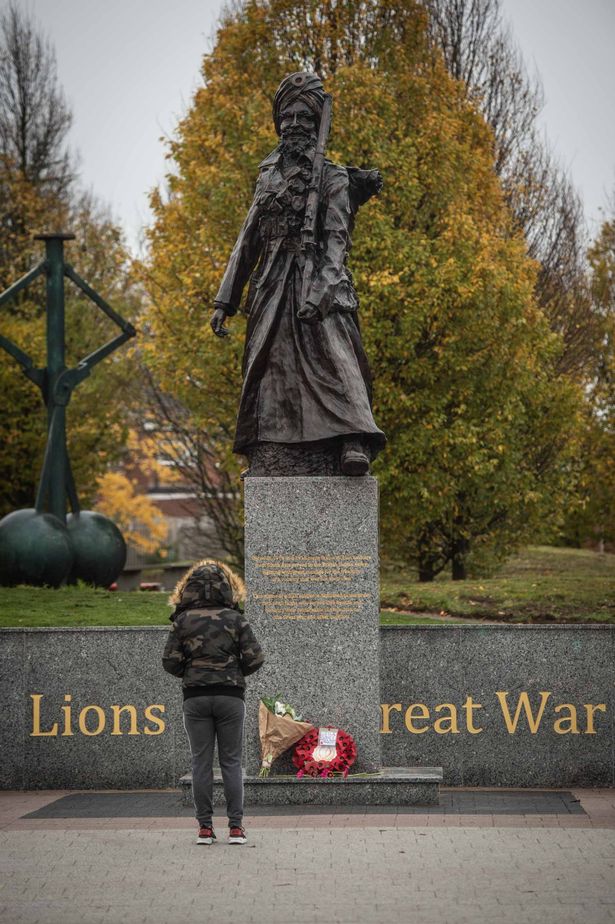 by LAUREN CODLING
ASIAN peers, politicians and community leaders have paid tribute to south Asian soldiers who contributed to the First World War, as Remembrance Sunday is marked this weekend.
Almost half of the three million Commonwealth soldiers who fought in the First World War were from undivided India, which included Pakistan and Bangladesh.
Over 74,000 Indian soldiers lost their lives in one of the deadliest battles in history.
In a speech made in the House of Lords on Monday (5) commemorating the 100th anniversary of the First World War, Lord Jitesh Gadhia remarked on the "crucial contribution" made by Commonwealth soldiers.
"The swift arrival of Indian troops on the Western Front in September 1914 was absolutely critical in preventing a German breakthrough," he said. "In all, 74,000 Indians serving in multiple continents never returned home."
Lord Gadhia and the Royal British Legion launched a khadi version of the poppy last month.
The poppies are made from the same linen worn by Indian activist Mahatma Gandhi, rather than the traditional red and green paper.
British prime minister Theresa May said last Wednesday (31) she would join MPs in wearing the khadi poppy in honour of the Indian soldiers killed during the First World War.
Conservative life-peer Baroness Shreela Flather told Eastern Eye on Tuesday (6) that although there had been some awareness raised surrounding the contribution made by Asian soldiers, more needed to be done.
"Most people know about Australian and Canadian soldiers, but who knows about us?" she said.
"However, I do think memorials have helped to make people realise that we were there fighting.
"We were crucial [to the first and second world wars]."
The British-Indian politician acted as one of the inaugural trustees in creating the Memorial Gates near Buckingham Palace, which commemorates the five million volunteers who served in the two World Wars from predominantly South Asia, Africa and the Caribbean.
On her reasoning for helping create the memorial, she said: "It annoyed me that [the soldiers] had not been remembered in anyway."
Although there had been efforts made by the UK to raise awareness of Commonwealth contribution, Baroness Flather believes the efforts of foreign soldiers and volunteers needs to be included in school curriculums so that younger generations have a better understanding of it.
Baroness Flather's father was one of the Indian volunteers during the war, working as a stretcher bearer. Although she recalled her father saying little about his experiences, he did talk about having to eat tinned beef when he was serving.
"As a Hindu, it wasn't very nice for him to live on [beef ]," she said.
"But he did not talk about it a lot, a lot of people did not want to remember their time during the war."
Sunder Katwala, director of thinktank British Future, believes more people are now aware of the armies who came from across the Commonwealth and pre-partition India.
"It's important that people know this because it's a history that we all share, whatever our
ethnic or faith background, and which we can remember together," Katwala said.
He added substantial efforts had been made during the centenary to tell the story of World War One's South Asian soldiers, and seven in ten of the public are aware of this history.
Four hundred thousand were Muslims from what is now Pakistan. However, this is only
known by a fifth of people.
"The story of those soldiers – men like Khudadad Khan, the first South Asian to be awarded the VC for bravery – still needs telling," he said.
mams in mosques around the country were expected to give remembrance-themed services on Friday (9) to remember Commonwealth soldiers who fought for Britain.
Ahead of Remembrance Sunday, primary and secondary school pupils and families from
different ethnic and faith backgrounds in Bradford, London and Derby will make poppies to remember war heroes.
Poppy wreaths made will be laid at local war memorials as part of services in Waltham Forest, Derby and Bradford. It is part of the Remember Together initiative from British Future and the Royal British Legion.
Imam Qari Asim, chair of the Mosques and Imams National Advisory Board, is expected to deliver a Remember Together event for imams in Birmingham.
He said: "Most people, Muslims included, don't know that thousands of Muslim soldiers, from present-day Pakistan, fought for Britain in the First World War.
"It's important that they do – this shared history of contribution is something that we can all commemorate in Britain, whatever our ethnicity or faith."
From TheEye