Bangladesh clothing industry to consider on safety matters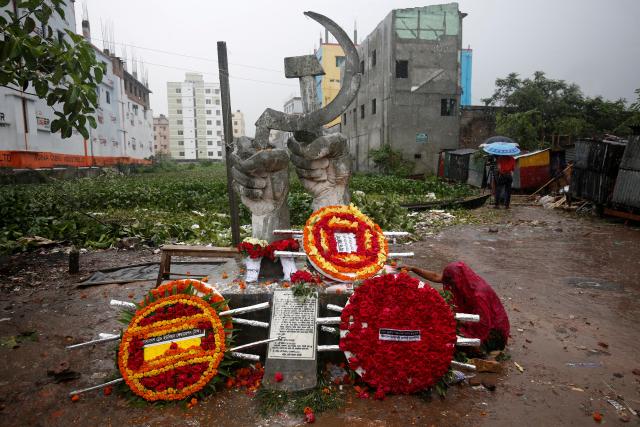 BERLIN/DHAKA (Reuters) – A group set up to improve safety in Bangladesh's garment industry after the Rana Plaza disaster in 2013 is warning global fashion firms that they will have to stop sourcing from some factories if the watchdog is forced to close next week.
The threat to the apparel sector, which accounts for the bulk of Bangladesh's exports, comes at a precarious time for the country ahead of a bitterly contested election in December, when Prime Minister Sheikh Hasina is seeking another term.
"The consequences of a closure of the Accord liaison office in Bangladesh will be significant, immediate, and damaging," said Joris Oldenziel, the deputy director of the Accord on Fire and Building Safety in Bangladesh.
More than 200 firms – including the world's top fashion retailers like Zara-owner Inditex (ITX.MC) and H&M (HMb.ST) – signed the legally-binding, five-year Accord after at least 1,100 people were killed when the Rana Plaza complex collapsed.
Bangladesh's government had agreed to allow the body an extension to complete remaining safety fixes and help build up a national regulatory body to take over the Accord's work. However, the High Court ordered it to close on Nov. 30
"The premature shut down of the Accord, leaving workers in unsafe circumstances, would jeopardize the brands' ability to source from a safe industry," Oldenziel told Reuters.
Low wages have helped Bangladesh build the world's second-largest garment industry after China, with 4,000 factories employing about 4 million workers. The sector exports more than $30 billion worth of clothes a year, mainly to the United States and Europe.
Fashion group Esprit (0330.HK), which produces about a third of its garments in Bangladesh, has written to its factories in the country to say that the closure of the Accord's office in Dhaka will undermine the reputation of the textile industry.
"Activism in key market countries could make the Bangladesh brand toxic to consumers in spite of the tremendous improvements that we have achieved in recent years," Luis Gonzaga, Esprit's head of global supply, said in the letter to suppliers.
FACTORIES AT RISK
The Accord has inspected more than 2,000 factories in Bangladesh and helped draw up plans to fix 150,000 structural and fire hazards. Some 90 percent of those issues have since been addressed, although many that remain are major problems.
The Bangladeshi High Court has ordered the Accord's Dhaka office to close due to a complaint from a factory owner who was prevented from working with Accord brands after he was accused of falsifying test results on concrete strength in his building.
The Accord will keep operating from the Netherlands and remains legally binding on its member companies, but it has warned signatories they may have to stop sourcing from about 500 factories with safety problems if it can no longer inspect them.
The Accord and its signatory firms, along with European politicians and campaign groups, have been lobbying the Bangladesh government for help to lift the court order, but with little effect so far.
"We don't need them anymore," said Bangladesh's Commerce Minister Tofail Ahmed, adding that the government is capable of monitoring factories itself and noting that there is no such international oversight in countries like China or India.
However, many experts and campaigners say the Bangladesh regulatory body is not yet ready to take over. Some question whether it will ever be effective given endemic corruption in a country where many politicians also own garment factories.
"If they go, Bangladesh's garment industry will go back to square one. Workers' rights and safety will not be protected," said Babul Akhter, president of the Bangladesh Garment and Industrial Workers Federation.
Paul Barrett, deputy director for the Center for Business and Human Rights at the NYU Stern School of Business, said threats by retailers to move elsewhere might not be credible.
"I don't think the big Western brands want to leave. They've committed themselves to improving safety," he said. "Various brands are exploring Ethiopia but there isn't the capacity to rival what goes on in Bangladesh."
Sweden's H&M, one of the biggest buyers of garments in Bangladesh and the first Accord signatory, said it will keep up efforts to improve factory safety but will not pull out if the Accord has to close in Dhaka.
"We believe any sudden withdrawal from the Bangladesh market would negatively impact the livelihood of the families that depend on the textile industry," a spokesman said.