Formal collaboration between NRNA think-tank and Government think-tank Begins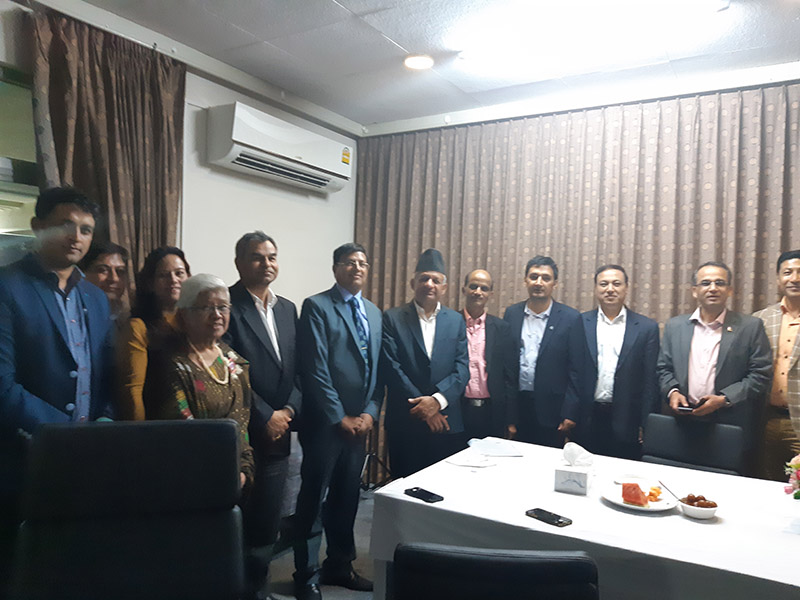 Thailand: The formal collaboration between Government of Nepal and Non-Resident Nepali Association (NRNA) for the public policy domain has started to materialize. NRNA has made an official request to Ministry of Foreign Affairs to begin the collaboration between newly instituted NRNA think-tank-Nepal Policy Institute (NPI) and government think- tanks. NPI team led by its chair Khagendra Raj Dhakal handed over the NRNA's official request letter to Foreign Minister of Nepal Hon. Pradip k. Gyawali amidst an interaction program held at Embassy of Nepal, Bangkok on Thursday.
Speaking at the interaction program, Foreign Minister Gyawali assured that he will wholeheartedly accept NRNA as a development partner of Government of Nepal and Government will engage NPI towards materializing this special focus on policy formulation and reform process.
The NRNA's letter signed by President Bhaban Bhatta reads that as a commitment of NRNA to contribute to the ongoing policy discourse of Government of Nepal, NPI needed to be in constant collaboration with different government agencies for which a focal point at National Planning Commission (NPC) has been requested. It further says NPI is instituted based on the article 20.6 of current NRNA constitution. Last October, NPI had presented its strategic plan for discussion at the plenary session of 1st Global NRN Knowledge Conference held in Kathmandu where Foreign Minister, NPC Vice Chair and independent think tanks had presented their views on the role of diaspora on development policies. Incorporating the suggestions of all sides, NPI delegation including Executive Members Rajendra Prasad Shrestha (Current AIT SERD Dean), Ramesh Singh (Former Action Aid CEO) and Bishwa Tiwari (UNDP Affiliated Economist) had handed over the NPI's new draft of strategic plan (2019-2021) to the foreign minister and shared their views on the social and economic development of Nepal. NPI strategic plan will be open for further feedback and comments from the wider spectrum, they informed.
Speaking at the same program NPI Chair Dhakal called upon the all Nepali and Nepali origin scholars in Nepal and any part of the world to be part of the NPI which will be an international think tank and knowledge platform of Nepali. Dhakal elaborated that knowledge capital is something NRNA can bring to Nepal in more visible way than financial capital for which NPI will develop thematic research teams clustering Diaspora scholars with residential scholars. With the formalities of starting the collaboration, NPI has pointed that it has now entered from planning stage to partnership stage to prepare itself for the project stage.
The ambassador of Nepal to Thailand, Dr. Khaga Nath Adhikari, NRNA Thailand President Assajita Awale and Thai Nepali Society's Patron David Khanal had given welcome speech to the program. There was a dinner reception hosted by Embassy of Nepal after the interaction where Nepali professionals and community organizations representatives were present.