Citi & British Asian trust promoting youth entrepreneurship in Pakistan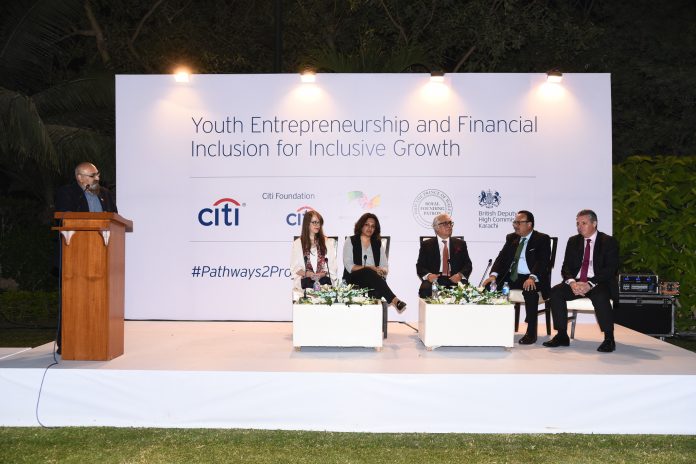 KARACHI: Citibank N.A. Pakistan (Citi) and the British Asian Trust (BAT) hosted a panel discussion at the British Deputy High Commission to celebrate the success of the first year of the Urban Youth Programme, a joint initiative to empower young entrepreneurs in Pakistan to develop and grow new businesses as part of the Citi Foundation's Pathways to Progress initiative. The event brought together leaders from across the business, government and development sectors, as well as young entrepreneur graduates from the programme, to take part in a discussion on the importance of nurturing youth entrepreneurship and financial inclusion for Pakistan's future growth and prosperity.
Pakistan has a growing labour force with 1.7 million young people reaching working age each year. However, four million young people between the ages of 15-24 years are unemployed and this number is set to rise to 8.6 million by 2020. That is a significant and growing number of young people who are at risk of social exclusion, income inequality and reduced prospects, and represent a serious challenge to Pakistan's productivity and economic potential.
During the discussion, Citibank N.A. Pakistan MD and CCO Nadeem Lodhi said "As a Pakistani, I must admit it is alarming to learn that this young and able workforce is not being given their chance to shine. With one in three working people in Pakistan aged between 15 and 24, we cannot ignore the need nor shy away from providing support. We must lend a hand in breaking the cycle of poverty and the most effective way of doing this is to ensure access to quality training, which in turn allows them to earn and to build their own future."
An integral part of the Citi Foundation's Pathways to Progress initiative in Pakistan, the programme – implemented by the LUMS Centre for Entrepreneurship – was developed to unlock economic opportunities and create jobs for young people from low-income backgrounds. Tapping into the entrepreneurial spirit of over 60 young people, supporting them with training, mentoring and investment to start up and grow a profitable business, the programme has provided a model that can be scaled and replicated
British Deputy High Commissioner Ellin Burns who hosted the event, said in her opening remarks: "I am delighted with the outcome of this joint initiative. Having been associated with the British Asian Trust and Citi Foundation in support of the launch of their joint report Sustainable Livelihoods: Investing in Pakistan's future, it is extremely positive to see how this programme has come to fruition, with the potential to be scaled further in future".
Graduate – Rabia Ashiq, 24 who runs her own academy, shared her experience: "The incubation centre provided me with all the necessary material that helped me run my business effectively". Muhammad Faisal, 21 also praised the course: "The biggest benefit of the programme was that I was able to develop my own business plan… I also gained insight into how to manage, grow and expand the business."
The Citi Foundation's Pathways to Progress initiative prepares urban youth to thrive in today's economy. Pathways to Progress aims to reduce youth unemployment and increase sustainable economic development through entrepreneurship and leadership training. This year saw the expansion of Pathways to Progress globally with a $ 100 million commitment from the Citi Foundation to reach 500,000 young people with entrepreneurship and employability training before 2020.
The programme was co-developed and managed by the British Asian Trust, a UK organisation working to unlock and maximise the potential of people in South Asia through local, high-impact and innovative initiatives in India, Pakistan and Sri Lanka. Speaking about the project, British Asian Trust Chief Executive Richard Hawkes said "We believe that there is terrific untapped potential in the young people of Pakistan. With the right support and training, young people can thrive in their careers and add considerably to their country's prosperity."