British Nepalese handed memorandum to PM Theresa May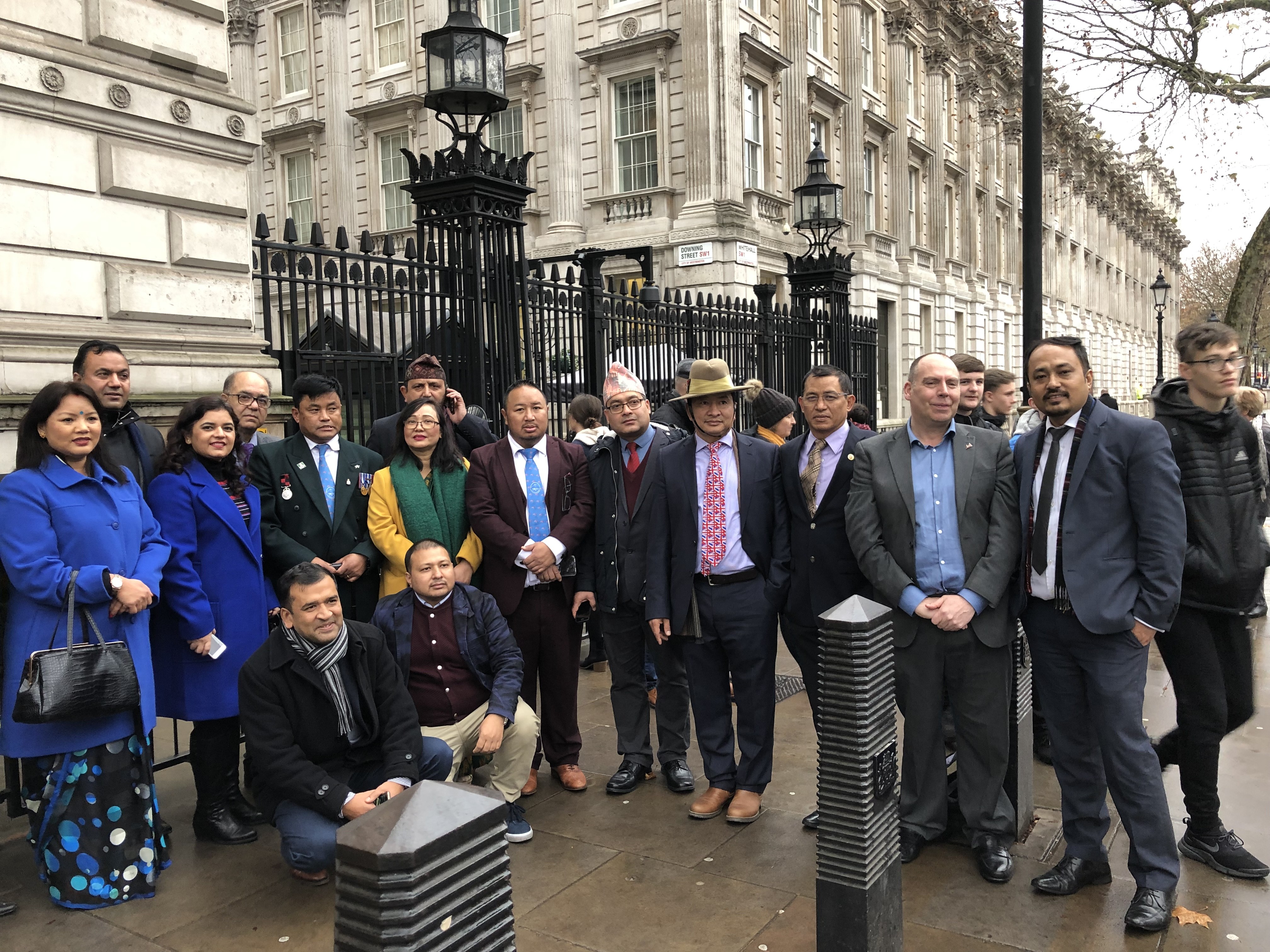 British Nepalese living in UK along with the Gurkhas from Nepal who fought for the British sovereignty, are seeking for their identity to be counted as a British Nepalese in UK.  A friendly relationship among Britain and Nepal has been over 200 years as Nepal itself is considered as the oldest country to come in to existence in the map of  South Asia.
The trilateral agreement among Nepal , Britain and India of 1947 AD opened the door for Nepalese Gurkha fighters to support Britain to their National security . The contribution of Gurkhas to the Britain is considered fundamental.
Britain has given permission to all the Gurkha family to come in to UK and establish their family and social life equally as British Shoulders. Apart from Gurkhas  many professional and business personnel from Nepalese community are contributing in British economy . It is said that there are approximately 200, 000 people living in UK .
During the census and official data collection by the UK government , people from  Nepalese community do not have a choice to select their identity as Nepalese British on the government's official form  as Pakistani, Bangladeshi and Indian community have got their space on the form along with jewish, roma, sikh etc in the inclusion category.
A team lead by Mr Yog Kumar Phagami, president of Non Residential Nepalese Association, UK along with members from various organisations from Nepalese community in UK were present to 10 downing street to request the British government to secure the identity of "British Nepalese" on upcoming census of Britain on 2021 to know the actual number of British Nepalese and their contributing in Britain and to address in the various issues of inclusion.
A formal request letter was handed to PM Theresa May from the team. Various leaders of Nepalese community NRNA central vice president Mr. Kul Acharya , NANA UK Patron Mr. Surya Gurung, councillor of Barnet from Tory, Mr Lakchya Bahadur Gurung,  NANA Europe women coordinator Sangita Marahattha, Tharka Sen , Min Gurung, NRNA UK, General Secretary RK Tripathi, Viece presidents Mrs Poonam Gurung, Sher Sunar, Lalit Kumar Neupane, Sumitra Rai, DGM Mr Vinaya Adhikari , Narayan Gaule, Dayanidhi Sapkota ,  Kamal Poudel, Arka Raj Timalsina, Nepalese journalist Mr Bachaspati Regmi , Alan Marcel representing UK-Nepal friendship Society and many concerned members were present on the delegation team.

Till date British Nepalese have to choose "Other Asian" category while participating in any official government activities.  We respect British rules and regulations and contribute through Gurkha army and other various business economic activities to the nation. It will be really motivating aspect for the community to provide British Nepalese identity on the census and official form."  an ex British Gurkha army and a present president of NRNA UK Mr. Yog Phagami said.
Government of Nepal has granted the permission to provide dual citizenship to the Non Residential Nepalese  community living worldwide.  As per this provision the Nepalese citizens living abroad  will enjoy all the rights of the citizen apart from political involvement.
"It would be great support to the government of Nepal to identify the number of NRNA people officially from the UK government and to understand the total contribution in British economy" says RK Tripathi , General secretary of NRNA UK.
Copy of the letter handed to the  British PM Theresa May :