Nepal receives highest number of tourist in 2018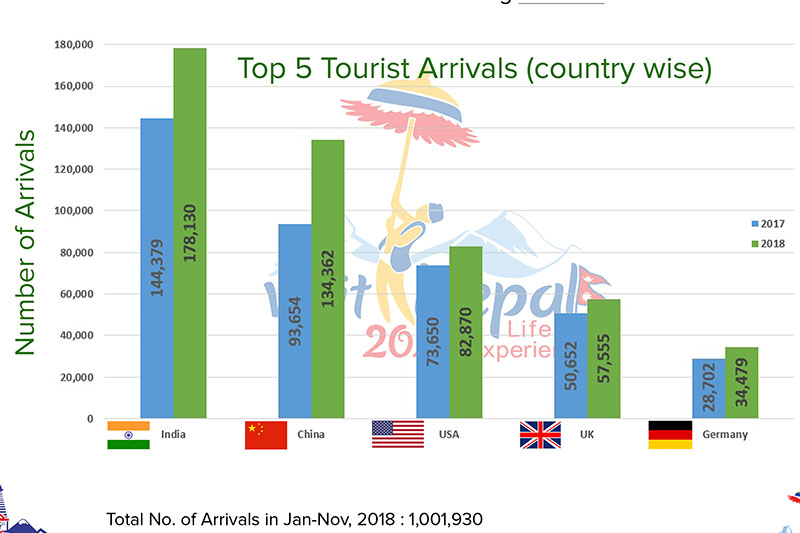 KATHMANDU: The official tourism body of Government of Nepal the  Nepal Tourism Board has reported that tourist arrivals in 10 months from January to November in 2018 has already  crossed 1 million with the number of  1,001,930 arrivals which is a  cumulative increase of 17 per cent over the same period in 2017.
This figure consistent and upward momentum continued through the peak tourist season during October and November 2018 without accounting for overland international visitors", Board Says .
In a statement board says that if the visitors who entered Nepal via land are accounted for, the figures when compared to 2017 would suggest a 23 per cent increase  in number of tourists.
The total arrivals of Indian visitors in January-November period stood at 260,124 while Chinese tourist arrivals reached 134,362 along with a significant rise in number of tourists from Thailand, Japan and South Korea.
Image of Nepal as one of the most preferred tourist destinations has been reinforced as reflected in the extraordinary growth in the visitor arrivals to Nepal, Deepak Raj Joshi, Chief Executive Officer of Nepal Tourism Board says.
Nepal is considered as one of the most affordable, adventurous  and secure tourist destination in South Asia. Government of Nepal has vowed a ambitious plan to celebrate Visit Nepal year for the  2020.