Doha bank opens its representative office in Nepal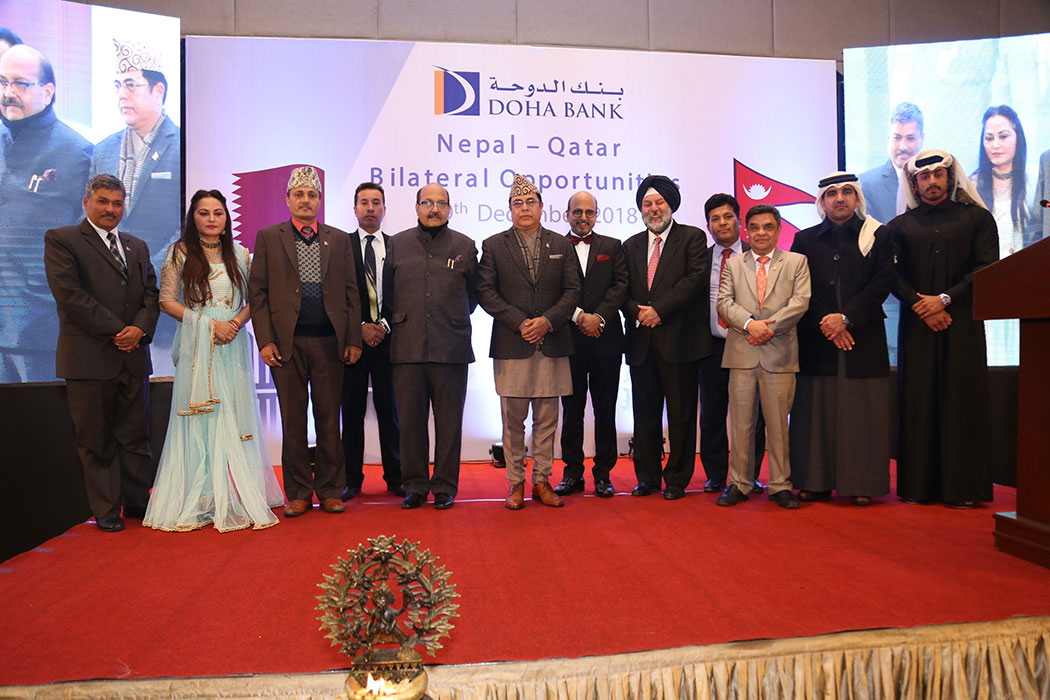 Kathmandu : Doha Bank, one of the largest commercial banks in Qatar, announced the official opening of its Nepal Representative Office. As part of this representative office Inauguration a Ribbon cutting Ceremony was held on 19th Dec 2018 Morning at Nepal Representative office. The key dignitaries who attended the inauguration ceremony were H.E. Ambassador of Qatar to Nepal Yousuf Bin Mohammed Al-Hail, H.E. Ambassador of Nepal to Qatar Ramesh Prasad Koirala, H.E. Nepal Rastra Bank Dy Governor Chintamani Siwakoti, Honorable Indian Rajya Sabha MP Amar Singh, and H.E. Tourism and Cultural Ambassador for Nepal and former Indian MP Dr. Jayaprada.
In the same day evening a Knowledge sharing session was held as part of the Inauguration Ceremony on the theme "Qatar- Nepal Bilateral Opportunities "at Hyatt, Hotel, Kathmandu, Nepal. The event was attended by Dr Chiranjivi Nepal, Governor, Nepal Rastra Bank, Shiva Raj Shrestha, Dy Governor, Nepal Rastra Bank, His Excellency Manjeev Singh Puri, The Ambassador of India to Nepal and other Key dignitaries who had also attended the morning inauguration Ceremony. At the session the Chief Guest of the Function, Dr Chiranjivi Nepal, Governor, Nepal Rastra Bank stated "The representative office of Qatar's prestigious Bank will be the catalyst to greater Qatar – Nepal Bilateral Cooperation and help us to more mature the Nepalese financial system. As per policy of government of Nepal, the country will continue to have greater trade and investment liberalization, To facilitate this flow of funds for financing greater trade and investment liberalization, Nepal Rastra Bank will contribute to ensure financial and payment stability with cognizant of AML /CFT issues."
Dr. R. Seetharaman, CEO of Doha Bank gave the keynote address and gave an insight on Qatar and Nepal economy. He said "Qatar expected to grow by 2.7% in 2018 and 2.8% in 2019 respectively. In Dec 2018 S&P Global Ratings announced that it has revised its outlook on Qatar to stable from negative. It has stated Qatar has effectively managed the ongoing boycott's impact on diplomatic ties and trade and transport links. Earlier this year Qatar's long-term issuer ratings have been changed from negative to stable by Moody's Investors Service, which affirmed the long-term issuer and foreign-currency senior unsecured debt ratings at Aa3. Fitch has also revised Qatari sovereign's Outlook to Stable from Negative and affirmation of the country's Long-Term IDR at 'AA-. He also spoke on the reforms implemented in Qatar like 1) Qatar's New Investment Law 2) Qatar's Permanent Residency 3) Qatar's Food Security and 4) Qatar's Metro Rail project and key developments such as Qatar Sovereign Bond issuance. According to IMF Oct 2018 Outlook, Nepal economy is expected to grow by 5% in 2019. The main sector of the economy is agriculture, which employs over 70 percent of the population and accounts for 33 percent of GDP. As Nepal is home to the highest mountains in the world, tourism has been steadily growing in importance and is an important source of revenue."
Dr. R. Seetharaman highlighted on the key bilateral relationships between Qatar and Nepal. He said "The trade relations between Qatar and Nepal have been growing continuously, as Nepal's primary exports to Qatar include garments, textiles, magnetic cylinders, vegetables and others, while Nepal imports polyethylene, polypropylene, and some food products from Qatar. Qatar-Nepal trade volume stood at QR15mn in 2017. Nepali community in Qatar, which is the second biggest expatriate community in Qatar at 400,000. Nepal has a huge potential for investment in various sectors such as hydropower, tourism, agriculture and infrastructure. Trade, Remittances and investments are the key enablers to enhance the bilateral relationships. "
Dr. R. Seetharaman gave insight on role of Doha Bank in Nepal. He said "We will facilitate remittances to Nepal from Qatar based on tie ups with local banks in Nepal. Primary business activities of Nepal Representative office would be supporting local banks in international trade business, bilateral lending and conduct other treasury businesses with local banks in Nepal. Doha Bank has three full fledge branch operations in India. We have already facilitated trade businesses and remittance services between Nepal and India through our branch network. With the commencement of Nepal office, we have established relationship with 15 Nepalese Banks that shows our commitment to this network.