Hasina won Bangladesh election despite the rejection of opponents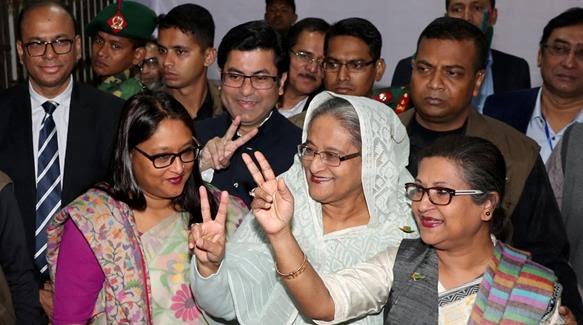 Dhaka : Bangladesh  election commission has officially stated  that  that Hasina had won a third straight term, with the alliance dominated by her Awami League winning 287 of the 298 seats. The main opposition Bangladesh Nationalist party (BNP), which boycotted the last poll in 2014, won just six seats.
The leader of Bangladesh's opposition alliance has described Sunday's general election, which saw prime minister Sheikh Hasina win with a thumping majority, as farcical, saying any outcome would be rejected and demanding that a new vote be held.
Hasina, who has headed the AL since 1981, went into the polls on the back of a decade of impressive GDP growth and booming garment exports. Bangladesh is the world's second-largest exporter of garments after China.
The 71-year-old leader is set for a record fourth term in office in the South Asian Muslim-majority nation of 160 million.