India won their first ever Test series in Australia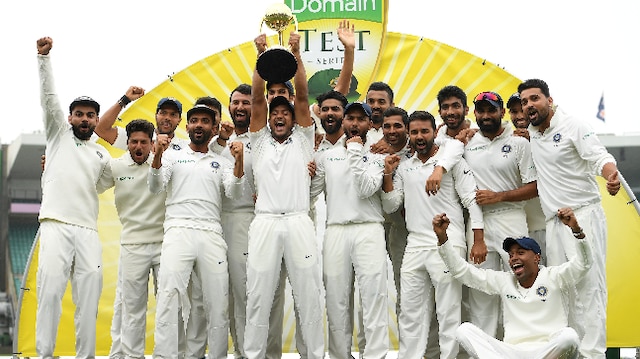 Sydney : Despite the rain and unfavourable weather India has won a test series in Australia for the first time.
Wins in Adelaide and Melbourne had given Virat Kohli's side a 2-1 lead going into the final test and a draw was enough to secure a breakthrough that had eluded all previous Indian touring parties for 71 years.
India have toured Australia since 1947 but never before managed to win a series in the country. But it all changed this time as Virat Kohli led his side to 2-1 series victory after winning the first Test in Adelaide and the third Test in Melbourne.
India lost the second Test in Perth after some questionable team selection on a pitch which many thought would assist pace and bounce.
India had arrived in Sydney after winning their first ever Boxing Day Test. With a 2-1 lead, India could not have lost the series and it seemed improbable Australia could bounce back from the thrashing at the Melbourne Cricket Ground to share honours 2-2.