Finance Minister of Nepal Dr. Yuvaraj Khatiwada In U.K. to promote FDI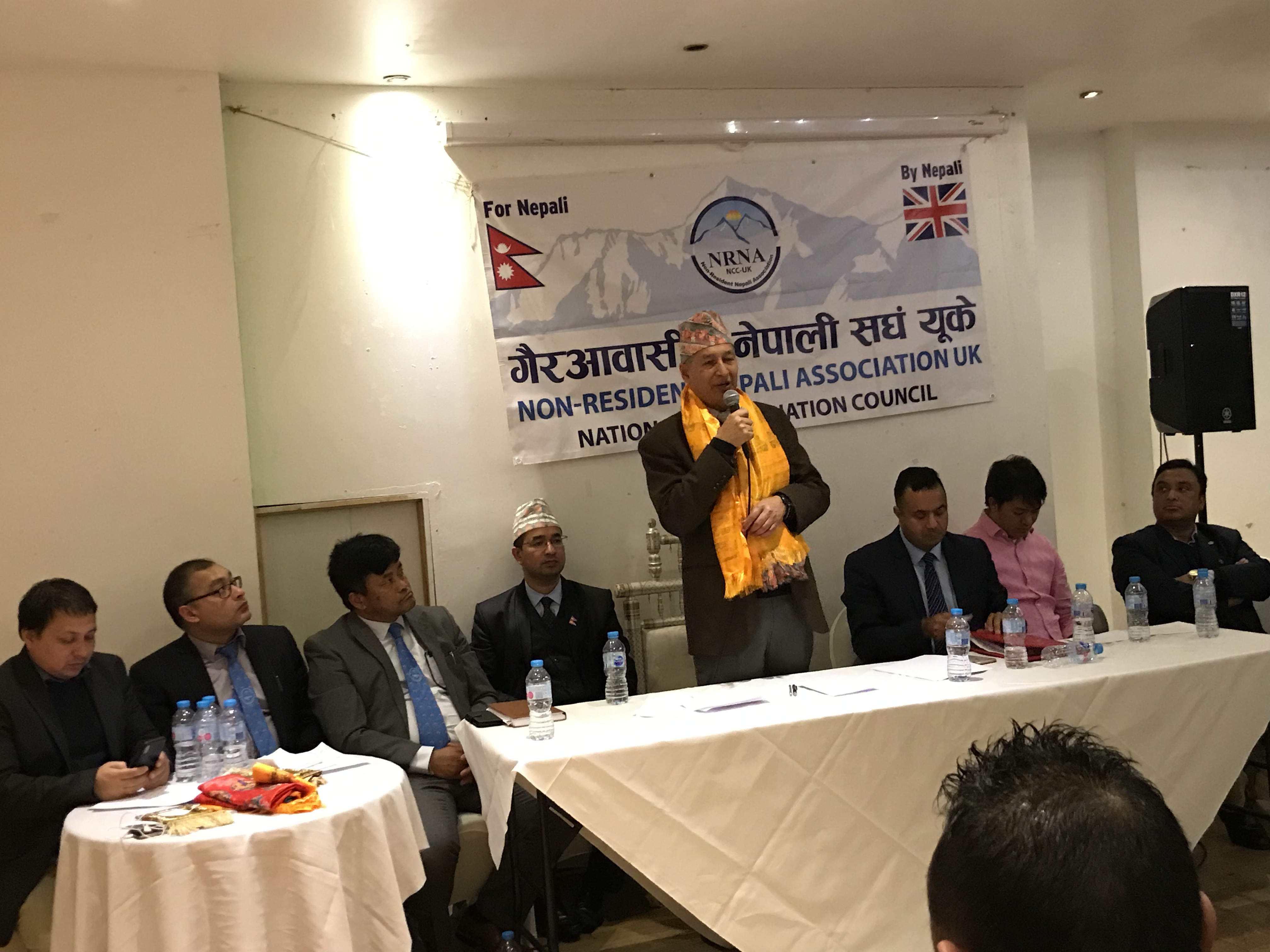 London : Finance minister of Nepal Dr Yuvaraj Khatiwada has landed to the  Heathrow airport of the U.K. on Wednesday afternoon.
Upon his arrival NRNA UK has organised a reception meet up  along with an interaction program with Non Residential Nepalese  community of U.K.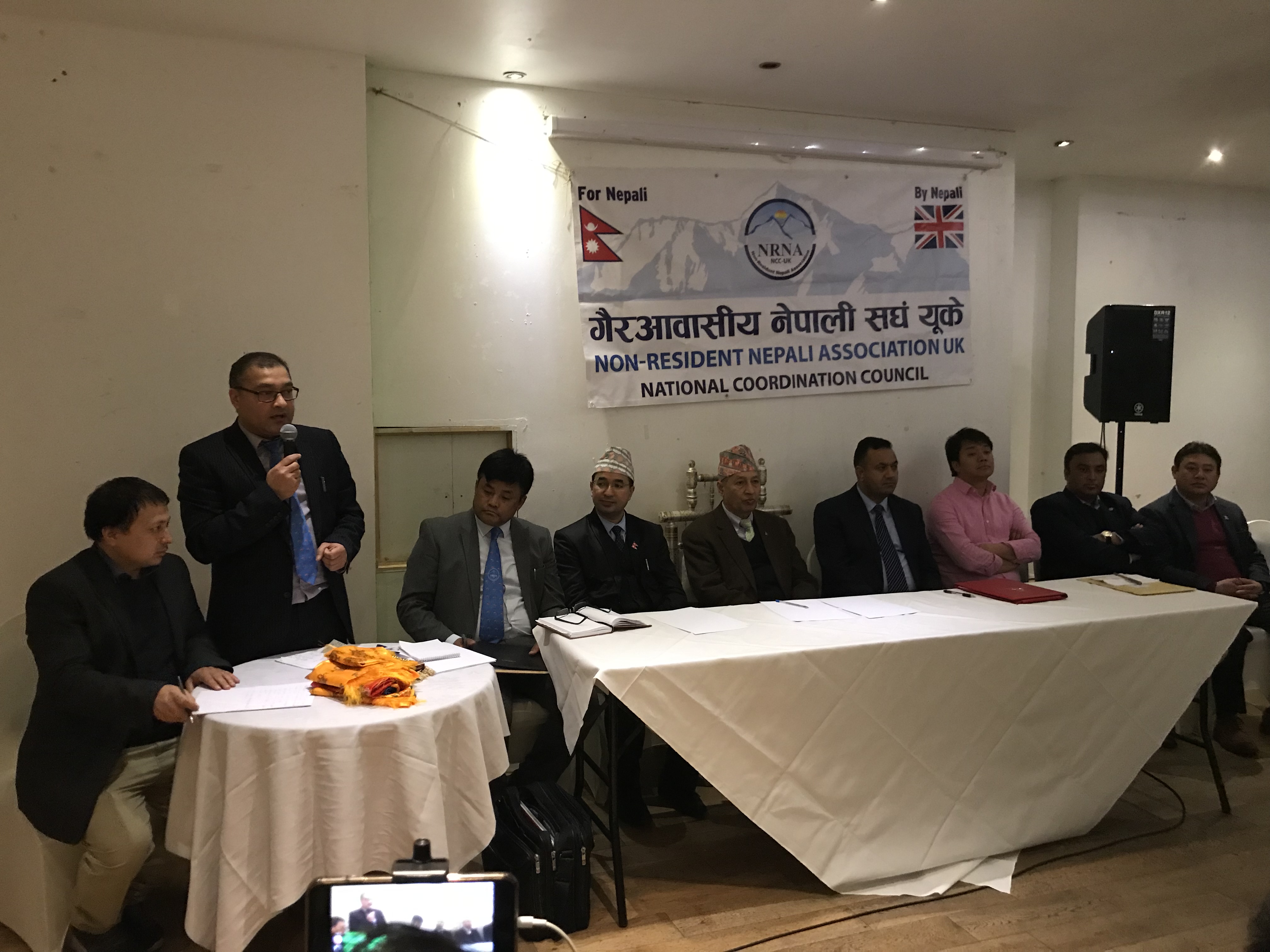 The program was chaired by Yog Kumar Phagami , president of NRNA U.K.
Facilitating  the program, General Secretary of NRNA UK, Mr RK Tripathi highlighted some  financial issues of Diaspora Nepalese.
Economist Mr Bigyan Prasain highlighted some economic indicators that has not gone to positive direction. He blamed to the government  being fail to address general issues of  the people's basic needs but selling  huge aspirations everyday.  Having the solid majority and favourable political condition  along with the  support from democratic opponents,   the current work progress of the government in one year is not satisfactory and  completely fail in terms of spirits , Prasain added.
NRNA central VP, Mr Kul Acharya raised  some genuine  issues of financial difficulties and FDI and requested the government of Nepal to ease the difficulties through a NRN friendly policies.
Gurkha issues were reminded to the FM Khatiwada by Gurkha satyagraha leader Mr Gyan Raj Rai stating the government of Nepal  to seek the appropriate value from  the contribution of Gurkhas along with the justice to the all ex Gurkhas.
President  of Janasamparka Manch Mr Yuvaraj Gurung highlighted some political issues to be addressed by the government.
On the occasion,  Speaker of Janasamparka Samiti Mr Khushi Limbu presented a memorandum stating various political and economic issues to the government via FM Khatiwada.
Concluding the interaction program FM khatiwada said that despite some of the disappointments and high aspiration of the people, the nation is heading towards right economic direction. He urged the NRN community to support and invest without any hesitation as all Nepalese living abroad are the Investment Ambassador for Nepal and government has 100 percent of dedication and guarantee to protect the wealth.
FM Khatiwada said that  the aim of visiting the U.K.  is to motivate and boost the confidence of foreign investors in Nepal. He said that Nepal has done remarkable improvement  in economy with the average 7 percent growth and  4 percent of inflation which is historic in Nepalese context. "If you don't believe me and and thinking as overstatement please refer to the recently published report of   IMF" he added.
He has been arrived to UK as the key speaker in   Nepal Development Conference organised by the Embassy of Nepal to U.K. According to him  he will be having dialogue with some of  British authorities along with  the DFID minister in U.K.