British government preparing to make announcement to address Ex-Gurkha's issue : Minister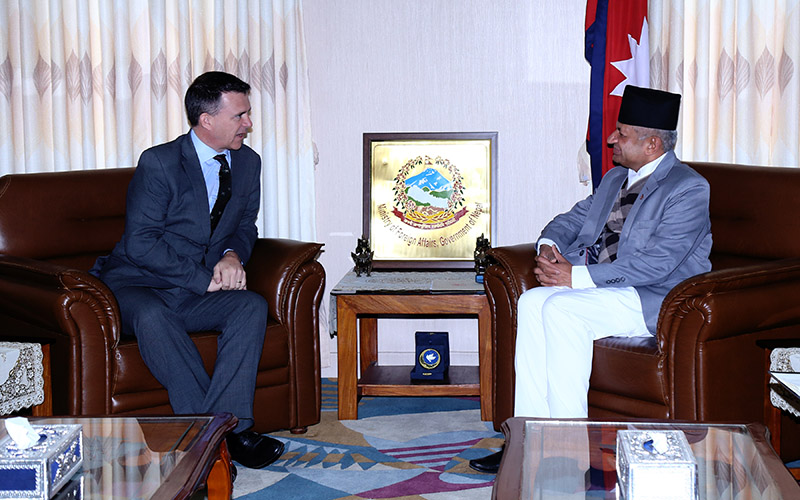 RSS – KATHMANDU: The United Kingdom has expressed commitment to continue its support towards Nepal's socio-economic development. The visiting Minister of State for the Armed Forces of Britain, Mark Lancaster, made this commitment during a meeting with Minister for Foreign Affairs, Pradeep Kumar Gyawali, at his office in Singha Durbar today.
During the meeting, the two ministers exchanged views on Nepal-Britain relations as well as on other issues of mutual concern and interest. Foreign Affairs Minister Gyawali, on the occasion, extended gratitude for Britain's continued cooperation to Nepal.
We held discussions on British support to Nepal for development and construction, the peace process and emergency cooperation, and the views of Nepal and its people towards the UK, a reliable partner in Nepal's development," Minister Gyawali said.
He said that he also emphasised on resolving the problems of the ex-British Gurkha soldiers by addressing their demands and also on evaluating their contribution without confining settlement of the issues only to the financial domain.
Minister Gyawali shared that he urged the UK government to be flexible to the maximum when it comes to resolving the ex-British Gurkha soldiers' concerns to which the British Minister of State was positive.
He stated that the British Minister during the meeting also expressed that the British government was preparing to make an announcement in the near future in connection to addressing the problems and concerns of the ex-British Gurkha soldiers.