Land revenue office is the most & Police is the least corrupted public entity in Nepal :Report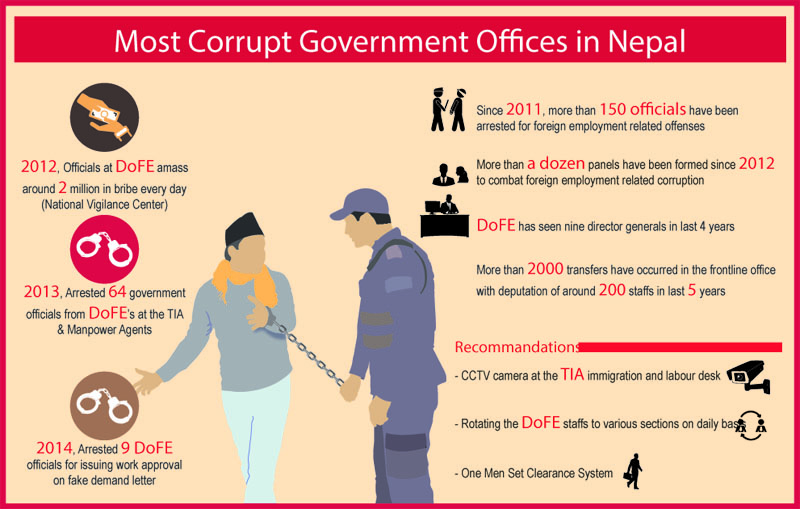 Kathmandu : According to a  study of  CIAA on the 'Status of Corruption and Good Governance in Nepal' ,  the land revenue office is the most corrupt public entity where service-seekers are forced into paying additional charges to even enjoy services as per the law.
According to the report as many as 1,037 respondents (30.5 per cent) of all seven provinces said that LRP employees asked them for additional charges(bribe or "Ghus")
The Survey office is  ranked as the second most corrupted office with 15.9 per cent, rural municipality/municipality (14 per cent).
Similarly,  Inland Revenue Office (12.2 per cent), Water Supply Office (6.4 per cent), District Agricultural Development Office (5.1 per cent), District Education Office (4.8 per cent), Land Revenue Office (4.7 per cent), Transport Management Office (2.9 per cent), Telecom Office (1.5 per cent), Road Division Office (1 per cent),  Cottage and Small Industries Office (0.7 per cent) and District Police Office (0.1 per cent).
The CIAA said service-seekers were obliged to pay bribe money for their works in various layers without any justification. "Corruption has emerged as a big challenge to Nepal in terms of service delivery and good governance. General public do not get service without bribe from the employees responsible to provide it," the report warned.
According to thr  Corruption Perceptions Index released by Transparency International on January,  Nepal fell two notches to 124th position in 2018 from 122nd in 2017 out of 180 countries despite scoring equal points of 31.