Visit Nepal 2020 kicked off in Berlin with tribute to late tourism minister Adhikari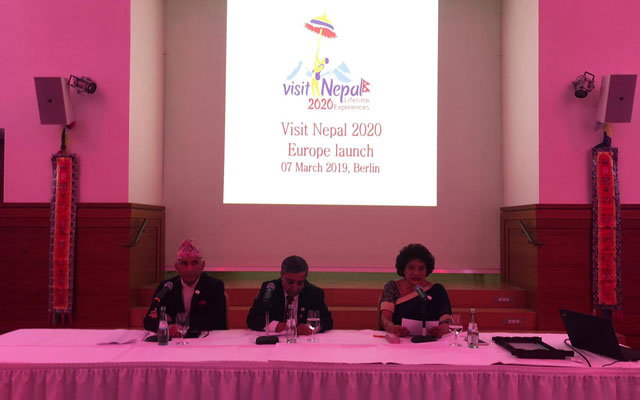 Berlin: The launch of Visit Nepal 2020 campaign at ITB Berlin was dedicated to the late Nepal minister for culture, tourism, and civil aviation, Rabindra Adhikari, who passed away last week in an unfortunate helicopter accident.
Travel trade members expressed regret over the death of Adhikari, who had undertaken a series of policies to reform Nepal's civil aviation sector since assuming the position in February 2018.
Nandini Lahe-Thapa, the director of marketing for Nepal Tourism Board called for a minute of silence.
She said: "Today, was supposed to be a special day of celebration but as you all know, we have unfortunately lost the Architect of the VN2020 campaign, our beloved Hon. Minister and other members in a tragic air accident a few days back. It was his dream to launch the VN2020 campaign at the ITB.  It was a very difficult decision for us to go ahead with the launch but for Nepal and Nepalis, Resilience is our strongest ……. and we decided that the greatest Tribute to him would be to carry his Vision forward with dedication and determination. We cannot thank you enough for your support by being here today."
NTP Ceo Deepak Josh explained what tourism to Nepal is all about after presenting a breathtaking video of Nepal.
Jamaica's Minister of Tourism Ed Bartlett thanked Nepal for their cooperation in hosting one of the regional global resilience centers. Jamaica is the pioneer and host of the global resilience center project.
Dr. Taleb Rifai, former UNWTO Secretary-General gave a moving tribute to the late Nepalese minister and praised Nepal tourism leadership and the Nepali people.
Founder of Himalayan Windows, Anupam Dahal, paid tribute to the late minister's efforts in removing bottlenecks at Kathmandu airport. "He was initiating changes like never before and made good impact to improve our air connectivity."
Shreehari Thapaliya, CEO, Trekking Team Group Nepal, described Adhikari as "one of the best and most dynamic leaders".
Mario Hardy, CEO of PATA, added: "During his short term as minister he has help moved the tourism sector of his country forward, and we were all looking forward to see all of achievements. He will be greatly missed."
The keynote address was given by the Hon. Nepalese Ambassador to Germany H.E. Mr. Ramesh Prasad Khanal. The embassy formed a tourism task group under the direct leadership of the ambassador.