China topped the chart in terms of sending foreign tourists to Nepal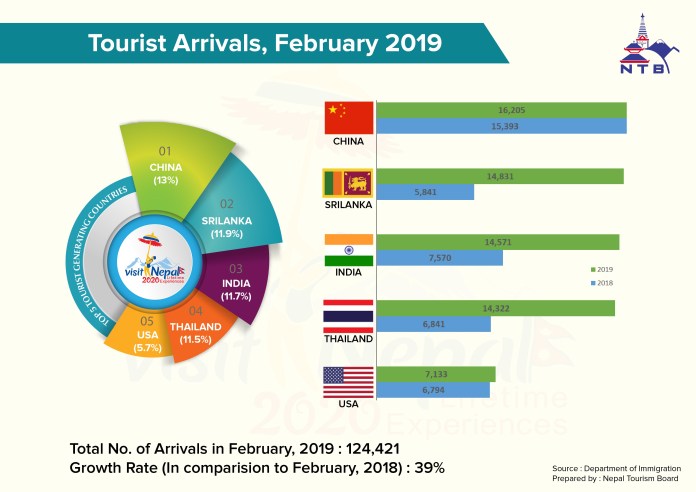 KATHMANDU, March 12:  China topped the chart in terms of sending foreign tourists to Nepal in the second consecutive month as the Himalayan country welcomed 18,313 Chinese tourists in February, Nepal Tourism Board (NTB) said on Monday.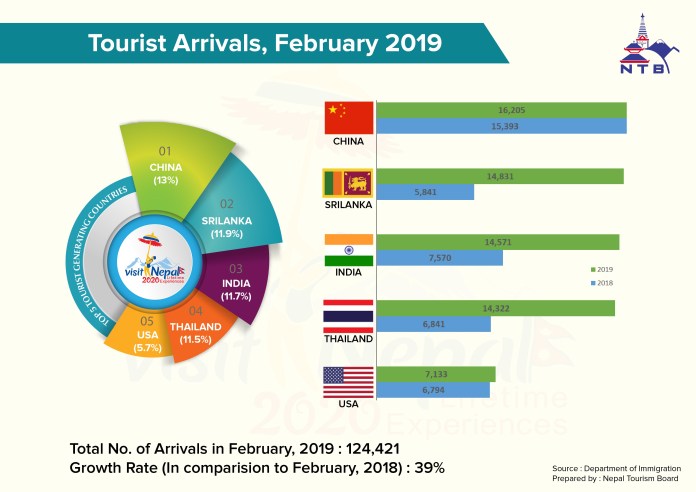 Nepal received a total of 14,831 Sri Lankan tourists in February, followed by India's 14,571 visitors.
In February, Nepal received a total of 14,322 tourists from Thailand as South Asian country emerged as fourth largest source market. The United States came the fifth with a total of 7,133 tourists, according to NTB, the main tourism promotion body of Nepal.
In aggregate, a total of 124,421 foreign tourists visited Nepal in February, a cumulative increase of 39 percent over the same period in 2018, according to NTB.
With arrivals of 15,343 tourists, China also topped the chart in January. India was the second largest source market in January, according to NTB.
As Nepal is organizing Visit Nepal Year 2020, the Himalayan country has been seeing tremendous growth in foreign tourist arrivals.
"With this phenomenal growth of almost 40 percent (in February), the target of Visit Nepal Year 2020 looks realistic," said NTB Chief Executive Officer Deepak Raj Joshi.
Nepal targets to attract 2 million foreign tourists in the year of Visit Nepal Year.
Nepal saw the arrival of 1.1 million foreign tourists in 2018 with India and China contributing the largest number of visitors. It was for the first time that the Himalayan country welcomed over 1 million tourists in a year.
India sent the largest number of tourists as a total of 260,124 Indian tourists visited Nepal in 2018 followed by 134,362 from China.