Indian embassy awards 200 Golden Jubilee Scholarships to Nepali students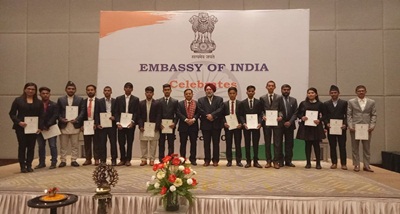 The Indian Embassy in Nepal on Wednesday awarded 200 Golden Jubilee Scholarships to meritorious Nepali students for continuing various undergraduate courses at colleges and universities, all india radio reported. 

Awarding the certificates to the students in Kathmandu, Nepal's Secretary of Education Khaga Raj Baral said, India has been providing valuable support for the development of education in Nepal. 

He said, with the Government of India scholarships, Nepali students have excelled in various fields and it has helped in human resource development of Nepal. In his address, Indian Ambassador to Nepal, Manjeev Singh Puri advised students to achieve personal and professional fulfilment. 

He said, it will contribute towards Nepal's socio-economic development and will further deepen and strengthen India-Nepal relations.

This year the scholarships recipients covered for 36 undergraduate courses including MBBS, BDS, BE, BSc, BBA and BCom etc. The students have been shortlisted from 50 districts of Nepal. They include around 45 per cent girls and 8 per cent differently able students.

The Government of India had started the prestigious Golden Jubilee Scholarship Scheme in 2002 to mark the completion of 50 years of India-Nepal Economic Cooperation. 

Under this scheme, an MBBS/BDS student receives 4000 Nepali Rupees (NRs.) per month for five years, a BE student receives 4000 NRs. per month for four years and students studying in other under-graduate courses receive 3000 NRs. per month for three years. So far more than 2350 Nepali students have been awarded the Golden Jubilee Scholarships from across 77 districts of  Nepal.

The Government of India provides a total 3000 scholarships in Medical, Science, Veterinary Sciences, Pharmacology, Dental science, Agriculture, Engineering, Arts, Commerce, Science, Computer Science, Nursing and many other disciplines to study in Universities and Colleges in Nepal and India. 

These Scholarships are said to be a part of India's efforts to support human resources development in Nepal for the overall socio-economic development of the Himalayan nation and its people.