Putting policy into practice to clean up South Asia's dirty air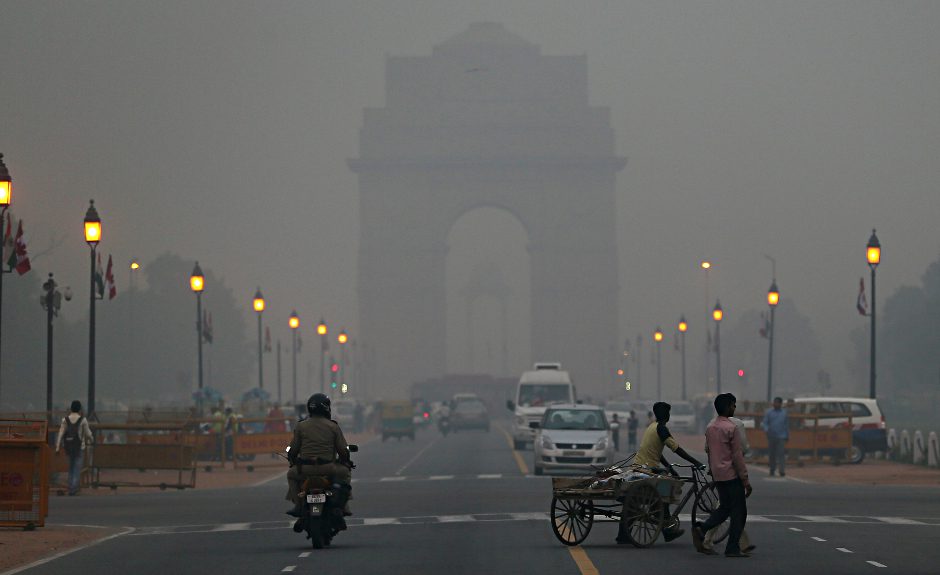 South Asia is home to 18 of the 20 cities with the world's worst air pollution; 15 of them are in India
>> A decade ago, Chinese cities were ranked among world's worst, but India is now more impacted by deteriorating air quality, according to a recent study on global air pollution levels.
>>In cities where air quality showed improvement, such as in China, policies and practices to combat the pollution have played a significant role.
>>This post is a commentary. The views expressed are those of the author, not necessarily Mongabay.
If there was a world competition for cities with the worst air quality, South Asian cities would win hands down.
In 2018, 18 of the top 20 cities with the worst air pollution in the world were in India, Pakistan and Bangladesh. India alone accounted for 15 of these cities.
These unenviable rankings are found in the World's Most Polluted Cities 2018 list compiled by Greenpeace and AirVisual, an air pollution app that compiles real-time monitoring data from more than 10,000 locations worldwide. AirVisual uses an indicator called PM2.5 as a representative measure of air pollution.
Gurugram, a suburb of Delhi, is the world's most polluted city, according to the list, followed by Ghaziabad, a city in the Indian state of Uttar Pradesh. Pakistan's Faisalabad (at No. 3) and Lahore (10) are also on the list, as is Bangladesh's capital, Dhaka (17).
The remaining spots on the top 20 were taken by the Chinese cities of Hotan (8) and Kashgar (19). A decade ago, Chinese cities dominated these rankings.
The 2018 report found that average concentrations of pollutants fell in Chinese cities by 12 percent from 2017 to 2018. Beijing, for years among the most polluted locations in the world, is now no longer among the 100 worst.
China has accomplished this by implementing strict air pollution reduction policies and strategies. It shows that economic progress need not be made at the cost of public health or the environment.
Can South Asia, collectively home to nearly 2 billion people, do likewise and tackle its air pollution before the burden of disease and premature death toll get worse? What policy, technology and lifestyle changes are needed? And do South Asian governments have the political will to clean up their foul air?
Health Burden
Polluted air has long been linked to aggravating respiratory diseases, but in recent years research has shown that it's also connected to many other ailments.
The World Health Organization (WHO) says nine out of 10 people breathe air containing high levels of pollutants. According to data aggregated by the global health agency, around 7 million people die (prematurely) every year from exposure to fine particles in polluted air. More than 90 percent of these deaths occur in low- and middle-income countries, mainly in Asia and Africa.
More than 40 percent of the world's population does not have access to clean cooking fuels and stoves, exposing women and children in particular to high levels of indoor air pollution, says the WHO.
Among the commonly measured air pollutants, PM2.5 has the most health impacts. Originating from combustion in vehicle engines, industry activity, or wood and coal burning, such tiny particulate matter can penetrate deep into the lungs and cardiovascular system. Prolonged exposure can cause illnesses including stroke, heart disease, lung cancer, chronic obstructive pulmonary diseases, and respiratory infections including pneumonia.
In 2013, the WHO classified outdoor air pollution as carcinogenic to humans (category 1, which means there is sufficient evidence of cause and effect in humans). Long-term exposure to air pollution can cause lung cancer, and also increase the risk of cancer in the bladder, said the International Agency for Research on Cancer (IARC), a specialized arm of the WHO.
The WHO recommends an annual mean exposure threshold of 10 micrograms per cubic meter of air to minimize the risk of health impacts from PM2.5. The United States Air Quality Index (US AQI), one of the most widely used in the world, has set a slightly higher value of "good" air: 12 micrograms per cubic meter.
AirVisual's 2018 report lists air quality data for 84 cities monitored in South Asia, 99 percent of which exceeded the WHO's annual threshold for PM2.5. As a whole, the air in South Asian cities had six times the recommended limit. (This report includes Iran as part of the South Asian region, while excluding the two smaller states of Bhutan and the Maldives.)
The region's main sources of PM2.5 are human-made: vehicle exhaust emissions, open crop and biomass burning, industrial emissions and coal combustion.
But there is limited understanding of how pollutant levels vary across space and time.
This is due to the lack of air pollution measuring stations that share their data in real-time. India and Iran have relatively more public measurements, but even these are not evenly spread. For example, Delhi has the highest number, and also dominates media coverage for its polluted air, even though seven other Indian cities had worse PM2.5values in 2018.
"The majority of South Asia … including Afghanistan, Bangladesh, Pakistan and Sri Lanka, lack government supported real-time public stations," says the report. Most measurements from these countries have come from either U.S. embassy monitors or citizen-led monitoring networks.
Wider and better air quality measurements can shed light on transboundary air pollution as well. For example, pollutants coming over from northern India are a serious concern for its neighbor, Nepal. Research shows that more than a third of the pollution in Nepal during winter is blown in from across the border.
This calls for cross-border coordination and cooperation. Shutting down Nepal's few hundred brick kilns will not remove the pollution arriving from the tens of thousands of kilns in neighboring India.
"Beyond responding to emergencies, the entire northern South Asia needs a strong push towards cleaner, less polluting technologies, including clean cooking, clean brick production and clean transportation," says Arnico Panday, senior atmospheric scientist at the International Centre for Integrated Mountain Development (ICIMOD) in Kathmandu, Nepal.
Solutions
Even as air quality measurements are being enhanced and scientific research continues, South Asia's city administrations and national governments need to take concerted action to tackle air pollution.
A recent report by U.N. Environment, titled "Air Pollution in Asia and the Pacific: Science-based Solutions" (October 2018) spells out 25 policy interventions that can help countries.
These fall into three categories: conventional emission controls focusing on emissions that lead to PM2.5 emissions; next-stage air quality measures for reducing such emissions; and measures contributing to development goals with benefits for air quality.
Technologies already available – such as clean cooking stoves, electric vehicles, and renewable energy sources – can be mainstreamed by the right policies and tax incentives. Better farming methods and other land use practices can help reduce creation of dust and soot, two formidable air pollutants in South Asia.
In the end, all policies are only as good as their implementation, and success depends critically on good governance and political will. Among other things, U.N. Environment says, having a government agency with a clear mandate for air pollution regulation "is essential for successfully adopting many … clean air measures."
China's strategies for improving air quality are worth studying too. But everything that worked in China's centralized and state-dominated system may not be directly replicable in democracies or federated states.
In one respect, at least, the Chinese experience is worth emulating. When Beijing had the world's most fouled air, its residents learned to check PM2.5 levels every day to decide how much outdoor activity was safe. Beijing media carried air quality index measurements alongside the daily weather forecast.
Improving degraded air quality takes time, effort and persistence. In the meantime, greater awareness can help South Asians minimize exposure and take some basic precautions.
Colombo-based Science writer Nalaka Gunawardene has covered science, environment and public health issues for nearly three decades. He tweets from @NalakaG. This story was first published on Mongabay. Read the original story here.