UK's much loved Indian-origin MP Virendra Sharma lost vote of no-confidence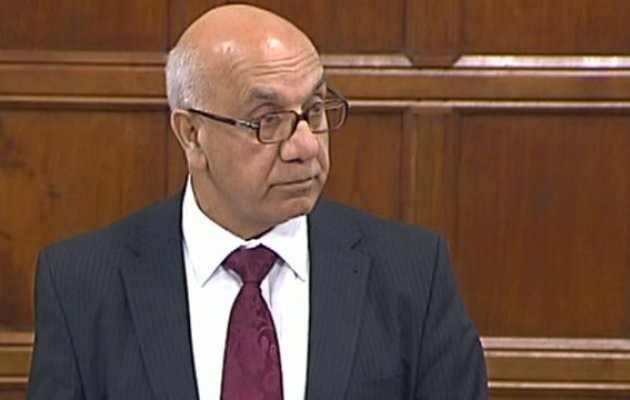 London :  MP Virendra Sharma, an  Indian-origin Labour politician from Ealing Southall region has faced a no-confidence vote from his local party on Thursday.
A vote of no confidence is seen as the first step in moving to a more formal deselection process.
Despite losing the vote by 41 to 18 last Thursday, Mr Sharma was defiant and said the majority of Labour members continued to support him.
He is the seventh Labour MP to lose a no-confidence vote in the last 2 years, where some of his moderate ex-colleagues lost votes tabled by Left-wing in their local parties, therefore quit Labour to form The Independent Group.
The Hindu in a report wrote that those who triggered and supported the motion against Mr Sharma, have expressed a number of concerns about his ability to represent the local community, such as failure to attend local constituency Labour metings for last 21 months.
A deeper concern was in relation to his stand on a number of political and international issues, such as his position on Kashmir and India-Pakistan bilateral relations, which they say endangered the basic political ethos of a diverse constituency.
According to MyLondon.news Embattled Ealing Southall MP Virendra Sharma has blamed racial and religious motivations for a vote of no confidence carried against him.
Mr Sharma  said,"I am proud to continue to serve Ealing Southall as their MP with a majority of more than 22,000 votes, the largest of any MP here in history. The vast majority of members continue to support me as do voters locally. This vote has taken place because I refuse to play local political games and have publicly criticised some Labour figures. The action today is motivated by religious and racial grounds, and those trying to split our local party do not represent our movement's vibrant history of anti-racist campaigning. I wont let them split our local party and will continue to represent everyone of all religions or none and all races in Ealing Southall. This vote does not change my commitment to our local community."
The party strongly denies racism claims
A spokesperson for Ealing Southall CLP refuted Mr Sharma's claim of racial discrimination.
There were 71 delegates within Ealing Southall CLP, of which 18 are white, the spokesman said, and the rest were a mixture of Muslim and Sikh, with most having Indian or Pakistani heritage. Mr Sharma is Indian and Hindu.
The spokesperson said: "This vote of no confidence – 41 to 18 – genuinely was supported by a wide mix of religious, racial and area groups."
What happens next?
Mr Sharma will not be automatically removed from office as a result of the vote.
Instead, the move will be passed onto the National Executive Committee, who will likely trigger a ballot to find candidates for the position in time for if the next General Election is earlier than currently expected, MyLondon reported.