Help Nepal Network marked its 20th anniversary thanking its supporters and donors in London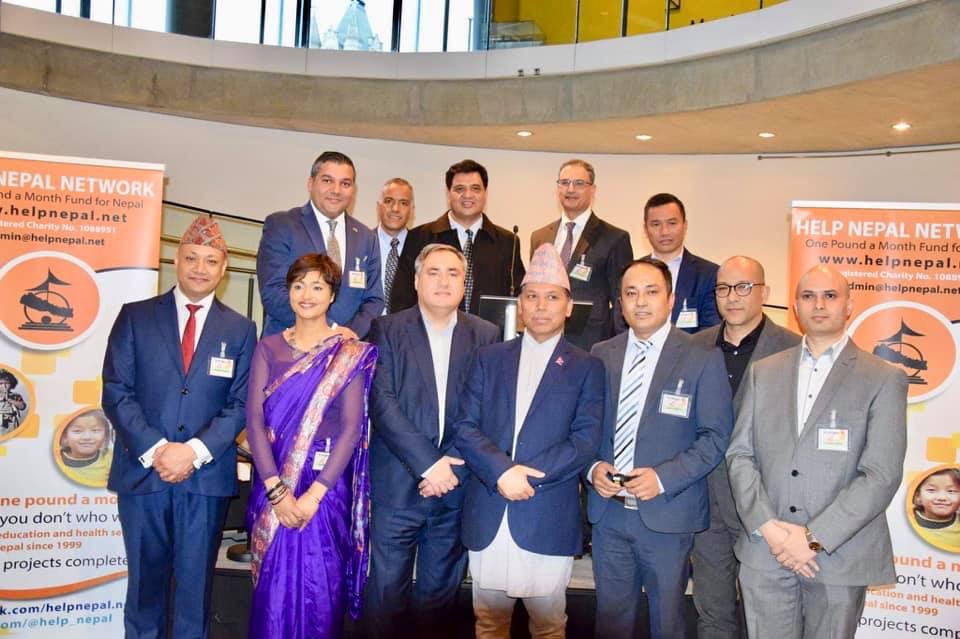 London : Help Nepal Network, one of the leading philanthropic organization established from the effort of the diaspora Nepalese, has marked its 20th anniversary on Wednesday evening.
The program was held in London City Hall where the office of the London Mayor is situated.
The ambassador of Nepal to the U.K. Dr. Durga Bahadur Subedi , Deputy Meyer of London Mr. Rajeev Agrawal , Vice President of NRNA ICC Mr. Kul Acharya , President of NRNA U.K. Mr. Yog Kumar Phagami , FNJUK President Mr Naresh Khpangi along with many distinguished guests were present in the program.
President of the Help Nepal Network, Dr. Pranav Gyawali, Nepal President Mr. Arun Singh Basnet along with U.K. Help Nepal Network team; President, Mr. Prasiddha Pradhan , Treasurer Sachin Shrestha , Media Coordinator Mr Bhagirath Yogi etc were the attendees to present the diverse impact and the account of the organization till date.
The network has been serving to the disadvantaged people from various part of Nepal for two decades.
100% of the donation and help made to the organization goes directly to the beneficiaries without reducing any admin and transaction cost, said Mr Sachin Shrestha , the treasurer of HNN U.K. team.
HNN has completed one hundred and 25 projects in total. Among them, building school, E-Library, Health post, health camp, providing medical equipment to the hospitals are the major projects.
It has completed 26 temporary shelters, 63 health posts, 4 lodging center, one hundred and 40 toilets and building 7 schools. It has also provided relief package in more than 25 incidences of natural calamities.
One of the ambitious projects of collecting NRs 100 million endowment fund of the organization has been successful to collect NRs 60 million till date. The interest of the fund is being used for the philanthropic work during the various humanitarian crisis.  The organisation has also established a  separate fund for administrative use. In this fund, it has been successful to collected  25 million rupees and the interest from this fund is used to cover its admin cost,  the media coordinator of Help Nepal Network Mr. Bhagirath Yogi stated through a presentation in the program.
Congratulating the HNN team and praising its divers effort to make a change in Nepal,  Ambessdor of Nepal to UK Dr Durga Bahadur  Subedi thanked all the supporters and entire NRN community for taking the lead on philanthropic works and serving the motherland through HNN.
Before starting politics through his Bibekshil  Sajha party, one of the popular media personality,  Mr. Rabindra Mishra was one of the active campaigner of HNN since its establishment.
Photo: Narendra Basnet, Gurkha Radio