President of Nepal to start nine-day visit to China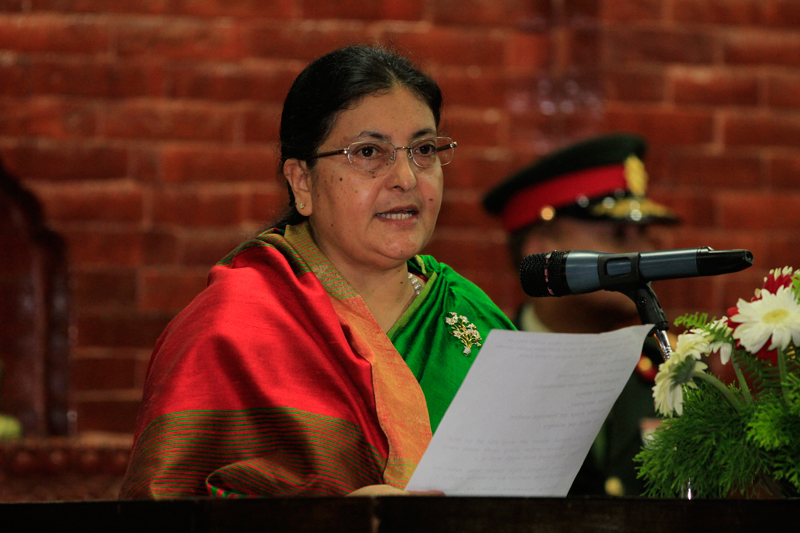 Kathmandu : President of Nepal Bidya Devi Bhandari will be on a nine-day visit to China from Friday, during which she will address the second international meeting on Belt and Road Initiative (BRI), a pet project of President Xi Jinping to consolidate Beijing's influence abroad.
Bhandari, who will be leading the Nepali delegation, will also hold bilateral talks with the Chinese President followed by signing of agreements in various areas.
The multi-billion-dollar BRI was started in 2013 and envisages massive investments in maritime, road and rail projects across 65 countries from Asia to Europe and Africa that collectively account for 30 per cent of global GDP.
The Belt and Road Forum meeting will be held in Beijing from April 25-27.
"She will also meet with other senior Chinese leaders during the visit. The President will address the joint meeting of business community from Nepal and China in Beijing," a statement issued by the Foreign Ministry said.
President Bhandari will visit Xi'an, the capital city of Shaanxi Province, on her way to Beijing.
She will also visit Lhasa, the capital city of Tibet Autonomous Region of China, on her way back home. In both places, she will meet the provincial leaders, the statement said.
President Bhandari will be accompanied by several ministers, including Minister for Foreign Affairs Pradeep Kumar Gyawali, Chief Minister of Province No 3 Dor Mani Paudel, among others.
President Bhandari visit to China is set by chartering the aircraft of Nepal Airlines Corporation (NAC) from April 24, 2019 at the invitation of Xi Jinping, President of China.
This is the first time NAC aircraft will be used for a charter flight to China. Earlier, President went to Delhi and Bangkok in commercial flights, one of the corporation officials stated. The corporation has decided to operate Airbus A320 for VVIP flight.
Previously, Honorable Prime Minister KP Sharma Oli flew in Airbus A320 of Himalaya Airlines for India and China visit.
According to high source, Ministry of Home Affairs has made an agreement to pay nearly $11,600 per hour. It has been confirmed to operate narrow-body aircraft of NAC for the presidential visit to China, said source.