Nearly 1 million Nepal's labour force are unemployed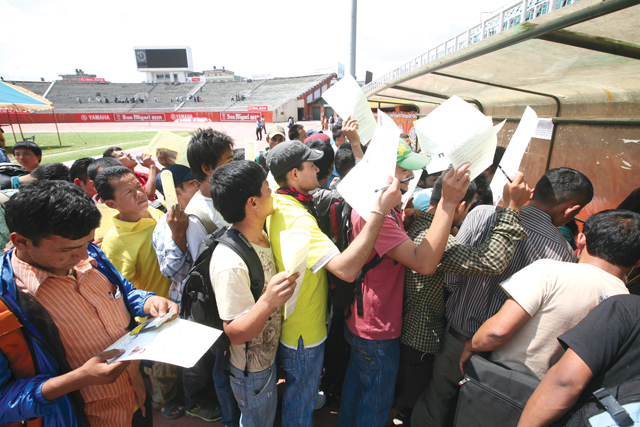 Nearly 1 million Nepal's labour force are unemployed, a Nepali government's report, revealed on Friday.
According to the Nepal Labour Force Survey 2017-18, unveiled Friday by Central Bureau of Statistics (CBS), the main government body dealing with country's vital statistics, as many as 908,000 people out of total labour force of 7.99 million are unemployed. This represents unemployment rate of 11.4 percent compared to total labour force.
Although Nepal has working age population aged over 15 years stands at 20.7 million, the survey has identified only 7.99 million people as labour force as they are either working or are trying to find a job where either they are paid or they get profit for engaging in the work.
The survey showed that a large portion of working age population is still not in the labour force. "There is significant unemployment within the labour force too," Suman Raj Aryal, director general at CBS, told  on Saturday.
Of total unemployed labour force, 56.3 percent are male, 43.7 percent are female. The report says high unemployment rate of male compared to female is not due to female are better employed. "This is due to under-representation of female in the labour force," the report states.
The unemployment is also the urban phenomenon because 70.5 percent of total unemployed labour force is living in urban areas, according to the report.
According to Aryal, a large portion of workforce in Nepal is unemployed because a significant portion of population is engaged in subsistence farming who are not considered as employed as per the new definition of employment. "This is due to lack of commercialization of agriculture sector in Nepal," he added.