London Marathon 2020 is set for 26th of April 2020 , how to apply for the ballot entry ?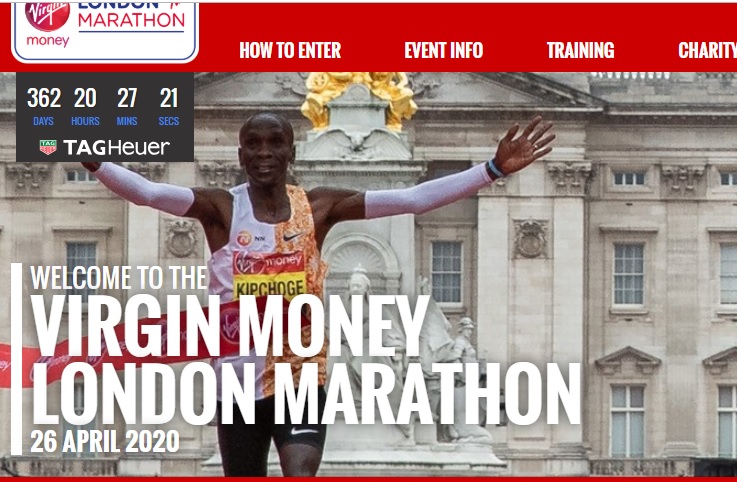 Lucky draw entry applications(Ballot entry) for the London Marathon 2020 race have been officially revealed .
If you fancy running the London Marathon, here's everything you need to know about getting involved with next year's edition of the iconic race.
The ballot entry will close at 5pm on Friday, May 3.
There are several ways of trying to acquire a coveted space in next year's event.
Some may qualify to take part by achieving a Good For Age time at another 26.2-mile race.
Others may acquire a place by raising money for charity, or by submitting a successful application through the public ballot.
 When is the London Marathon 2020?
The official date for next year's London Marathon has been confirmed as 26 April, following the pattern of recent years when it has been held on one of the final two Sundays of April.
So the 2019 race was on the 28 April, while the previous two editions have been held over the penultimate weekend of the month.
Here's how to apply to enter the 2020 London Marathon:
Entering in for the lucky draw is free and you will be informed if you are selected. Once you are selected in for the marathon than you have to pay  £39 or £35 for members of a UK-affiliated running club.  If you are from overseas your entry will cost £80 only if you are selected to take part in the marathon.
Lucky draw ballot entry can be made through the following links :
Applicants from the UK can enter the 2020 London Marathon by entering the ballot at ballot.virginmoneylondonmarathon.com(Click Here).
Applicants from outside the UK can enter the international ballot at www.virginmoneylondonmarathon.com/enter-now-international (Click Here).
Charity entry
Several large charities have a set number of places(Click here) to give to runners for the London Marathon on an annual basis.
In order to obtain a place in the race through a charity, you need to contact the charity directly to see if they have places available.
Your chosen charity will then ask for you to raise a certain amount of money prior to the race through the Virgin Money Giving website.
You can contact a charity to request a marathon place at any time.
Virgin Money London Marathon states that there typically "more runners interested in running for each charity than there are charity places available".
Therefore, charities may select runners to represent them based on whether they have a connection to the organisation, or how much money they are able to raise.
Good For Age entry
If runners are able to achieve a certain marathon time on a certified marathon course, then they may be eligible for a Good For Age place at next year's race.
For the 2020 London Marathon, 6,000 Good For Age places will be split evenly between female and male participants.
Men between the ages of 18 and 39 will be eligible to apply for a Good For Age place if they run a marathon in under three hours.
Women in the same age group will be eligible if they run a marathon in under three hours and 45 minutes.
The Virgin Money London Marathon clarifies that achieving a Good For Age time does not guarantee a marathon place, but only an opportunity to submit an application.
Applications for Good For Age entries for the 2020 London Marathon will open on Wednesday 7 August and close on Friday 16 August.
For a full list of the Good For Age time requirements for next year's event, click here.
Your prospects of getting a spot, however, are slim. Last year, a record 414,168 people applied through the ballot, which only delivers around 17,500 places – giving a smaller than 1 in 25 chance.
Entrants are sent a congratulations magazine if they get in, or, if they haven't made it either get a commiserations magazine sent through the post or via email.
There is an entrance fee, which in 2019 stood at £39, or £35 for members of a UK-affiliated running club, with overseas entries costing £80. You only have to pay if you get accepted into the race, rather than when completing the online registration.
Good for age qualification times (in hours, minutes)
Age 18-39 – men: 3:00, women: 3:45
Age 40-44 – men: 3:05, women: 3:50
Age 45-49 – men: 3:10, women: 3:53
Age 50-54 – men: 3:15, women: 4:00
Age 55-59 – men: 3:20, women: 4:05
Age 60-64 – men: 3:45, women: 4:30
Age 65-69 – men: 4:00, women: 5:00
Age 70-74 – men: 5:00, women: 6:00
What's the London Marathon route?
The London Marathon follow much the same, largely flat route each year, setting out from Blackheath in the south-east of the city.