Youth form Nepalese community Prabesh KC elected as a councillor from Aldershot in local election of England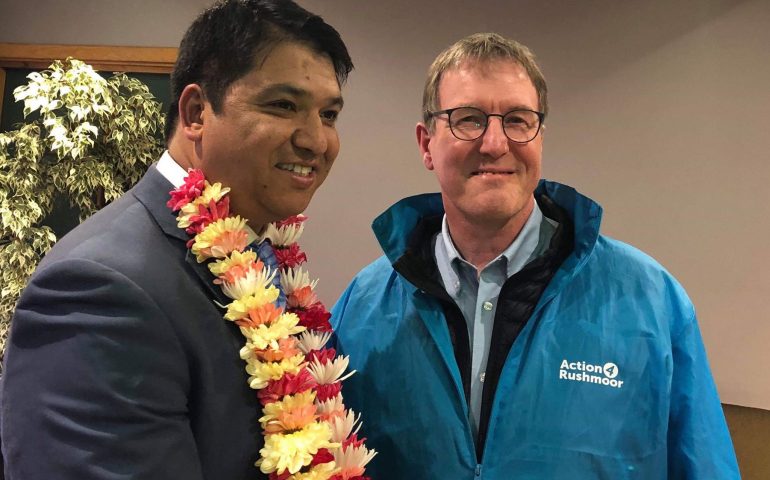 Aldershot: One of the active youth, entrepreneur and the community leader from Aldershot area Mr. Prabesh KC has secured his victory as a councilor from the Aldershot area. Mr. Kc has won the election by 47 votes among 710 votes cast in wellington ward. Prabesh was the ward councilor candidate from the Conservative party.  KC was born in the Myagdi District of Nepal and came to the UK in 1996. He is involved in real estate and other business in the Aldershot area. He has thanked all the voters and supports for believing and electing him.  After the declaration of his victory, he reaffirmed to work for his plans and promises that he made himself and his party during the election.
In recent days Nepalese British community living in the UK are also actively participating in local politics. This community is regarded as one of the active and dynamic communities in the society to be involved in community activities.  Not only through the Gurkhas dedication and support to Britains security but also the active participation of other Nepalese community members in local social activities as well as public services to contribute the entire British community which is considered substantial by the local community and mainstream leaders.
Voting took place in 248 English councils outside London and 11 local authority areas in Northern Ireland. There were also polls for six elected mayors in Bedford, Copeland, Leicester, Mansfield, Middlesbrough and the new North of Tyne devolved regional authority.
According to BBC the key highlights of the local election till now are : 
The Conservatives have lost control of 18 councils – including Peterborough, Basildon and St Albans. Labour has lost control of three – Hartlepool, Bolsover and Wirral
Labour has also lost its mayoral post in Middlesbrough to an independent
The Conservatives have won two councils – Walsall and North East Lincolnshire – both of which had no party with overall control before
The Liberal Democrats have gained eight councils – including Winchester, North Norfolk, Cotswold and Bath and North East Somerset
Labour has won one council – Trafford – a former Conservative stronghold
Where independent candidates have been standing, they have won on average 25% of the vote – and independents have taken control of two councils – Ashfield and North Kesteven
The Green Party has gained 42 councillors so far, while UKIP has lost 54
Turnout is averaging just one or two points below the last two local elections, reversing predictions of a major drop off in voters