Merger of Dr. Baburam Bhattarai led NSP and Upendra Yadav led SSF , "Socialist Party Nepal" becomes the third largest party of Nepal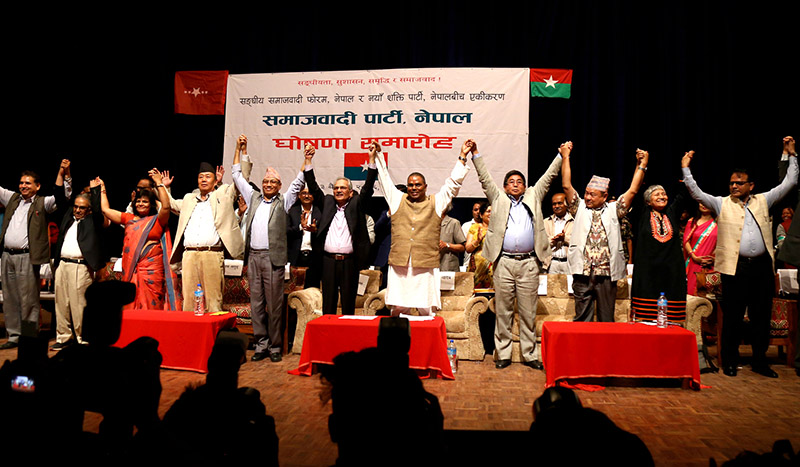 Kathmandu: Dr. Babu Ram Bhattarai-led Naya Shakti Party and Upendra Yadav-led Sanghiya Samajbadi Forum (SSF) have unified to form Socialist Party Nepal (SPN).
Dr. Bhattarai is regarded as the architect of 10 years long Maoist insurgency. Two years ago Bhattarai left his Maoists party and vowed to form a new alternative party for the prosperity. He formed a new party called Naya Shakti, stating a need for ideological departure from radical communism and old parliamentary date expired regime in Nepal.  He stated the need for a realistic and practical political force to lead the changed political scenario and introduced a neo-centrist scientific socialist school of thought focused on the inclusive economic prosperity of the nation.
Meanwhile, Yadav's party SSF is currently the fourth largest party in the House of Representatives (HoR) with 16 seats. Yadav, who is also the Deputy Prime Minister and Minister for Health in the KP Oli-led government, came to limelight after the Madhes movement in 2007 heading the then Madhesi Janadhikar Forum (Madhesi People's Rights Forum), which emerged as one of the strongest political forces in the Madhes.
The newly formed party will fight for inclusive democracy , directly elected president and election based on 100 percent parallel representation, Bhattarai said.
Both of the parties have been dissolved and unified as the new social party of Nepal.
The new party, having a non-communist ideology, will have two party chairmen, Dr Bhattarai and Yadav with 25-member office bearers – 16 from the SSF and nine from Naya Shakti party.
While Dr Bhattarai will lead the party's 'federal council' with a strong 1,000 members, Yadav will lead the central committee of 380 members, which means that Dr. Bhattarai will maintain the senior position in the party hierarchy.
Dr. Bhattarai represents the Naya Shakti Party in the federal parliament from Gorkha.
Ashok Rai has been nominated the senior leader and Rajendra Prasad Shrestha the co-chairperson of the party. The party has eight vice chairpersons namely Nawaraj Subedi, Parshuram Khapung, Yubaraj Karki, Rakam Chemjong, Renu Yadav, Lal Babu Raut, Hisila Yami and Hem Raj Rai.
Ganga Narayan Shrestha, Ranadhwaj Kandangwa, Ramsahay Prasad Yadav have been named the general secretaries of the party. Dambar Khatiwada, Dan Bahadur Biswokarma and Prakash Adhikari have been nominated deputy general secretaries.
Mohammad Istiyak Rai, Durga Sob, Parshuram Basnet and Prashanta Singh have been named the secretaries of the party. The party's treasurer is Bijaya Kumar Yadav.
The unified party has been named Samajbadi Party, Nepal.