Anushka Shrestha became Miss Nepal 2019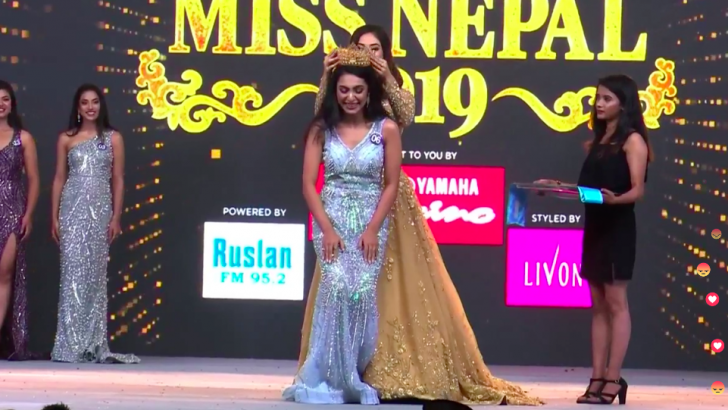 Anushka Shrestha was crowned Miss Nepal World 2019 as she beat 24 other contestants at the grand finale of the beauty pageant. Miss Nepal World 2018 Shrinkhala Khatiwada handed over the crown to new Miss Nepal . Pradeepta Adhikari, Riya Basnet, Meera Kakshapati and Rose Lama won the titles of Miss Nepal Universe, Miss Nepal Earth, Miss Nepal International and Miss Supranational respectively.
Hidden Treasures Ruslan FM 95.2 Miss Nepal 2019, the 25th silver jubilee anniversary of Miss Nepal beauty pageant was held on 9 May 2019 at Laboratory H.S. premises, Kirtipur, Nepal .
Subtitle Winners
Miss Glamour: Rose Lama
Miss Intellectual: Anushka Shrestha
Miss Popular Choice: Riya Basnet
Miss Athlete: Pradeepta Adhikari
Miss Friendship: Nancy Bogati
Miss Talent: Pradeepta Adhikari
Miss Fascino: Anushka Shrestha
Miss Beauty with a Purpose: Nitika Karmacharya
Miss Photogenic: Rose Lama
Miss Confident: Nisha Pathak
Biography of Anushka
Anushka  is a 23 year old Commerce graduate, currently working at one of the biggest financial institutions in Australia CBA (Commonwealth Bank of Australia).
Anushka graduated from the Australian Catholic University in Sydney with the Executive Dean's Commendation in 2017. She has worked within the International Education sector in Sydney as a Finance Officer as well.
The gorgeous Nepali beauty came to Sydney to pursue her higher education from Kathmandu in 2014, wanting to explore her personal potential and at the age of 19 was selected to do an internship at the Vatican City. She spent 3 months in Europe living in Rome, working in the Vatican City and backpacked to Venice, Paris and Sicily during this time. Anushka also enjoys public speaking, watching crime thrillers and television dramas.