Trade deficit of Nepal jumps up to 24 per cent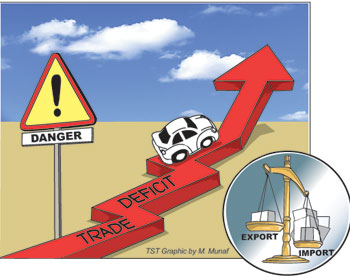 RSS (Kathmandu) : Nepal has seen ballooning trade deficit of billions of rupees annually as it failed to adopt export-oriented economic policy.
As per the preliminary statistics released by Trade and Export Promotion Center, the trade deficit has now reached to Rs 887 billion increasing by around 24 per cent in the first eight months of the current fiscal year.
The trade deficit has increased due to the burgeoning import of different goods and services in the country in recent period as well as the lack of export of domestic products as compared to import. Nepal imports goods and services mainly from India, China and third countries.
Nepal also supplies goods to different countries including Bangladesh, UK, USA, Germany, Turkey, France, Italy, Japan, Canada, Australia and Denmark.
The export and import has contribution of six and 14 per cent respectively in total trade of the country. The total export of the country increased by 15.3 per cent and reached to Rs 61.22 billion while import surged by 22.9 per cent and reached to Rs 949 billion during first eight months of the current fiscal year.
Nepal exported iron products, woolen carpet, readymade clothes, jute and jute products, pashmina, tea, juice, cardamom and herbs during the period. Import of petroleum products in the first eight months of the current fiscal year of 2018/19 increased around 36 per cent to reach Rs 137.6 billion. Likewise, import of steel products has seen a surge by 33.7 per cent to stand at Rs 120.4 billion, transport materials and its machinery parts by 14.2 per cent to reach Rs 64.1 billion and electronic and electronics materials by 39.1 per cent to sit at Rs 36.7 billion.
Similarly, import of gold surged 13.6 per cent to reach Rs 23.4 billion, and medicines 13.6 percent to stand at Rs 20.9 billion. Import of such materials would help mobilize country's economy in the context when most of imported materials were being used in industrial production, goods transport and public transportation, economist Radhe Shyam Malakar believes.
To reduce trade deficit, timely amendment of commerce and industrial policy and implementation of policy on related subjects should be in place.
Creation of job opportunities at home to engage around 5 million youths who are toiling in foreign countries and focus on agriculture are other things to be paid attention to. The situation of imported materials being sold for relatively cheaper price as compared to the products produced at home is another drawback affecting trade-deficit, claimed economists.