Nominations are open for this year's Asian Apprenticeship Awards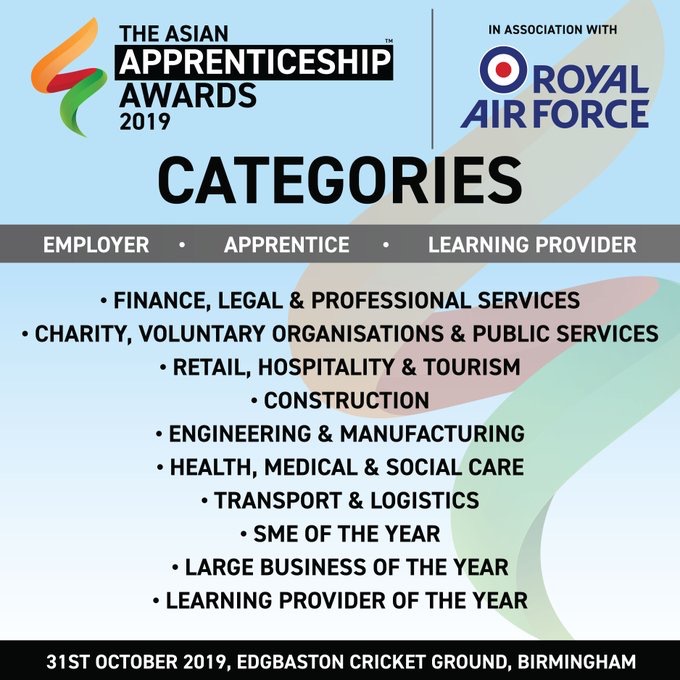 FEnews , London : Dedicated learning providers are encouraged to enter their talented apprentices and themselves in this year Asian Apprenticeship Awards.
The Asian Apprenticeship Awards is now an established part of the industry calendar, celebrating the talent and diversity of British Asian Apprentices, their employers and learning providers.
Hundreds of apprentices have been nominated since the inaugural awards. Organisers continue to achieve their goal of raising the profile of apprenticeships within British Asian communities, with many of the previous winners being the first apprentice in their family.
Last year's event attracted over 200 entries, culminating in a spectacular awards event in Birmingham. Ahmed Munshi of BAE Systems was named as overall Apprentice of the Year, impressing the judges for his commitment to his apprenticeship and the way he had become a real role model within his company and his community.
Organisers are delighted to retain the headline sponsorship of the Royal Air Force for 2019. A leading trainer of apprentices, the Royal Air Force has 2,500 people undergoing apprenticeships in more than 20 different disciplines and has a 99% pass rate.
Isa Mutlib is the Awards Project Director. He commented: "The Asian Apprenticeship Awards continue to promote and showcase the brightest and best British Asian Apprentices and the commitment of their employers and learning providers. I am really pleased that we are launching the 2019 Awards and look forward to receiving entries from across the country and from across sectors. The Awards celebrate and showcase the best of British Asian Apprentices and the people that employ and train them, and puts a spotlight on a generation of role models for young people to emulate."