FM Khatiwada presenting Budget of Nepal for Fiscal year 2019/2020 (Live)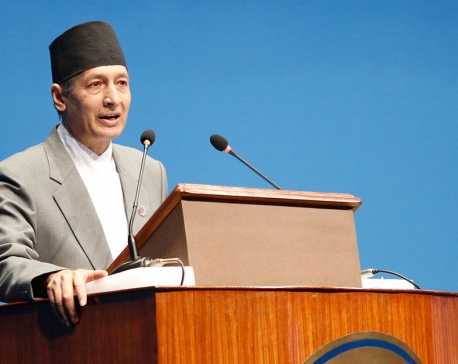 KATHMANDU : Finance Minister Yubaraj Khatiwada is presenting the fiscal year 2019/20 budget in the Federal Parliament Building in New Baneswor.
This is the second federal budget of the current government led by KP Sharma Oli.
The government on Wednesday unveiled Rs 15.329 trillion budget for the fiscal year 2019-20.
Out of the total budget, the government has allocated Rs 957 billion as recurrent expenditure, Rs 485 billion as capital expenditure and Rs 167 billion for financial management respectively.
To implement the budget, a revenue collection target of Rs 981 billion has been set by the government.
Foreign grant and borrowing have been targeted at Rs 57.99 billion and Rs 298 billon respectively.
The budget aims to collect Rs 195 billion as domestic borrowing.
The budget has projected economic growth rate at 7 percent.