PM Oli to arrive London on June 10, Will deliver talks at Oxford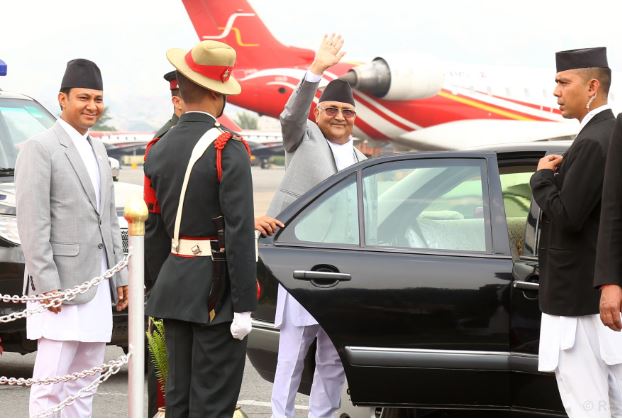 Jagan Karki, London—Nepal's Prime Minister, KP Sharma Oli, will be paying an official visit to the United Kingdom during June 10 to 12, 2019, officials said.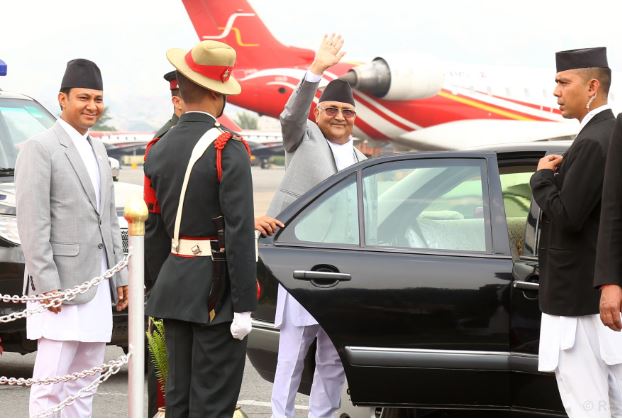 File photo
The  high-level visit is taking place 17 years since then Prime Minister Sher Bahadur Deuba visited Britain in 2002.
Talking to South Asia Time on Sunday, Deputy Chief of Mission and spokesperson of the Nepali Embassy in London, Sharad Raj Aran, said Prime Minister Oli will arrive London on Monday, 10th of June,  and deliver a speech at the University of Oxford the same day.
Mr Aran said premier Oli will have talks with his British counterpart, Theresa May, on 11th of June.
"The meetings will cover whole gamut of issues so as to strengthen mutual relations between Nepal and the UK," he said.
Premier Oli is likely to be the first foreign leader to meet British Prime Minister Theresa May who earlier said she will announce her resignation as the leader of the ruling party on 7th of June.
On the final day of Premier Oli's visit to the UK, Nepali embassy in London will organise a reception in honour of the visiting dignitary. The Prime Minister is also expected to meet Nepali community leaders and leaders of ex-British Gurkha organisations in London. He will leave the UK for France on 12th June.
Earlier, Nepal's official news agency, RSS, quoted Press Advisor to the Prime Minister, Dr Kundan Aryal, as saying that Prime Minister Oli will participate in the centenary celebrations of the International Labour Organization (ILO) in Geneva on 9th of June.
In France, Prime Minister Oli's engagement will include meeting French officials and witnessing the signing of two bilateral agreements regarding the establishment of a security printing press in Nepal and the country's own satellite in an orbital slot provided by the International Telecommunications Union (ITU). Both projects are being supported by the French government.
Sources say former British Prime Minister, David Cameron, was willing to visit Nepal but the visit never materialised as he resigned immediately in the aftermath of the referendum on Brexit (whether Britain should leave the European Union) in 2016. Though Queen Elizabeth Second has visited Nepal twice, no British Prime Minister has visited Nepal in the past more than 200-years.