Indian MP Raju Bista takes oath in Nepali, wins hearts in Darjeeling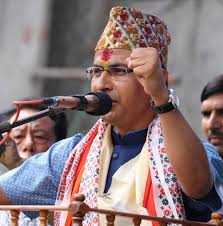 Darjeeling: Darjeeling MP Raju Bista on Tuesday took his oath in Parliament as a member of the 17th Lok Sabha. He took his oath in Nepali, much to the welcome of people from Darjeeling and Gorkhas all over the country, Eastmojo reported.
Nepali is one of the 8th Schedule languages recognised by the Constitution of India. Sikkim MP Indra Hang Subba also took his oath in Nepali earlier on Tuesday.
Wearing a traditional 'Gorkha Topi', Raju Bista ended his pledge with Jai Hind, Jai Gorkha, Jai Shree Ram', much to the cheers of other members present in Parliament.