LGBT community celebrates the first pride parade in Nepal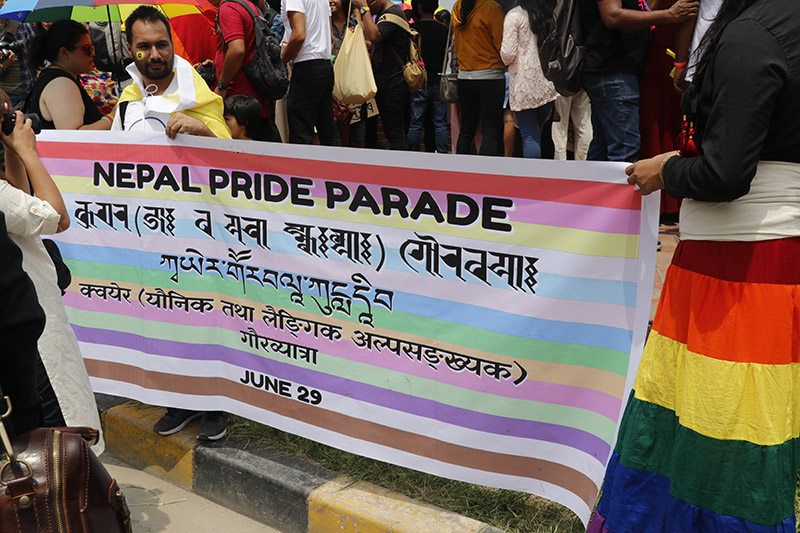 Kathmandu — The first pride parade of LGBT community in Nepal was observed with pride and dignity today.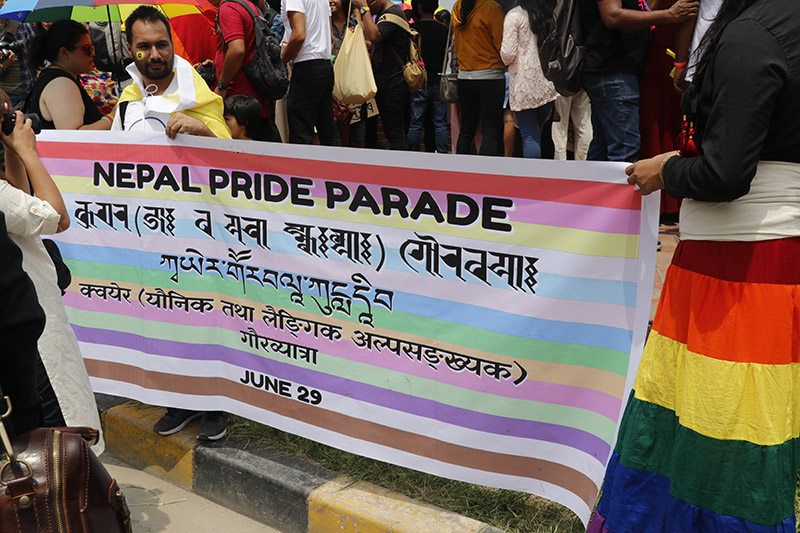 More than 300  of participants with decorative face paintings (being done on the spot by some participants themselves), colourful umbrellas, and vibrant clothes flooded the Mandala area in anticipation of the parade.
Performers danced in the square while the crowd waved large pride flags in excitement, the Himalayan Times reported.
The parade organised by Queer Youth Group (QYG) and Queer Rights Collective in collaboration with various organisations rallied from Maitighar (Fibwa-Khya) to New Baneshwar (Khuntoo).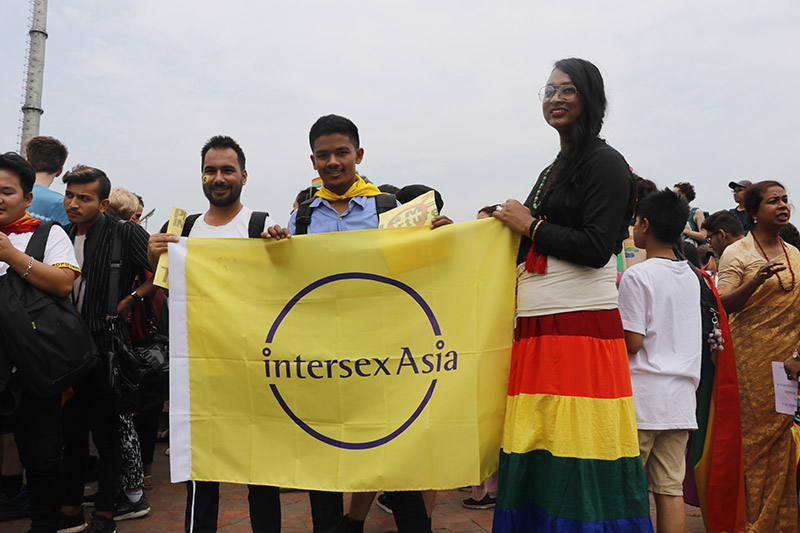 Rukshana Kapali, a transgender social activist and a member of QYG was overwhelmed with emotions seeing the community come together to celebrate love and each other.
Although Nepal legalised homosexuality in 2007 AD as a result of the Sunil Babu Pant and Other vs Nepal Government court case, the LGBT community still struggles for equal participation and representation in various walks of life.
The new Nepali Civil and Criminal Code (Muluki Ain) that went into effect in August 2018 fails to recognise same-sex marriage and defines marriage as being a union between two people of the opposite gender — creating a hostile environment for LGBT couples.
"There has always been a romanticisation of Nepal as being one of the more tolerant countries in Asia; however, the ground reality is very different. The laws are not actually implemented making it more difficult for our community," said Kapali.
She also discussed the importance of including topics surrounding the LGBT community in the Nepali curriculum to not just make students familiar with the concept but also make students within the community more comfortable in their school surrounding. Looking at definitions of 'family' beyond just a heteronormative lens might be a good first step, Kapali pointed out.
"I feel like these are my people. I know they won't judge me and I can fully be myself here," said an enthusiastic participant, Jyoti Shrestha, who identifies as gender fluid.
Talking about the stigmatisation of the LGBT community, Shrestha highlighted the prevalent gender-roles in our community that hinder the movement of Nepali society away from inclusivity of gender minorities.
"People here don't know the specific terms used and although they know we exist, there is still taboo surrounding this topic," continued Shrestha.
The pride month also marks the 50th anniversary of the Stonewall Riots in New York City, that acted as a tipping point for the Gay Liberation Movement in the United States.