A Nepali political party bans its members from meeting foreign intelligence agents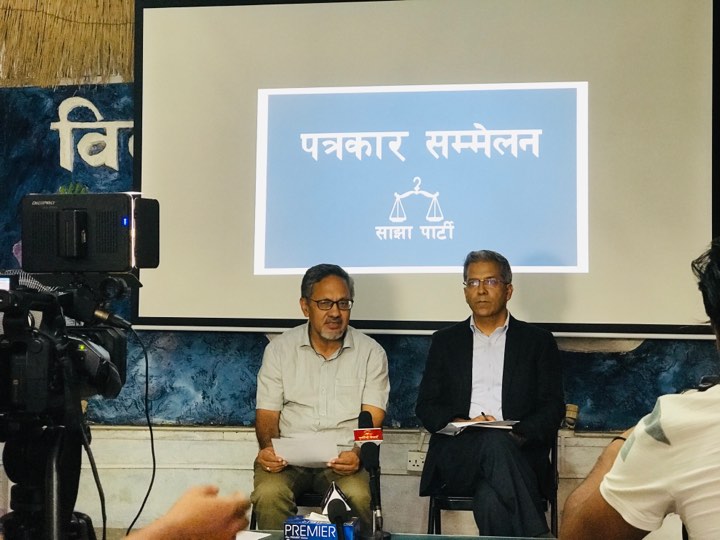 London—In what is seen as one of the first decisions by a political party in South Asia, a Nepali political party has banned its members from meeting foreign intelligence operatives.
A new political party led by a former BBC journalist, Rabindra Mishra, has brought a policy  prohibiting its leaders and members from holding talks and meetings with foreign intelligence operatives.
Sajha  party, which describes itself as an alternative political force in the country, said it had to introduce the 13-point directive "due to an open and rampant interference by foreign intelligence agents (into the country's politics) as well as the negligence of old ruling party leaders."
"Leaders from old parties including Prime Minister K P Sharma Oli have openly met foreign secret agents. Even many MPs and leaders have allegedly sold government's secret plans and documents to foreign agents" Rabindra Mishra , Convener of party told the AP1 TV.
दलका नेता, मन्त्री, राज्यका उच्च पदस्थ व्यक्तिहरूको विदेशी दूत/दूतावाससँगको सम्वन्धबारेको प्रचलित अभ्यास किन गलत छ र @Sajha_Party ले यसबारे कस्तो नीति अख्तियार गर्दैछ भन्नेबारे आज केन्द्रीय कार्यालय बखुण्डोलमा १ बजे हुने पत्रकार सम्मेलनमा पत्रकार साथीहरूलाई हार्दिक आमन्त्रण छ। pic.twitter.com/nq5zPuM9Os

— Sajha Party (@Sajha_Party) July 16, 2019
In his book "Prayogshala," journalist Sudheer Sharma has written about a meeting between an operative of Indian intelligence agency, RAW, and then leader of the CPN (UML) K P Sharma Oli. Oli has never refuted about that meeting.
"This is not merely a policy for Sajha Party cadres but also an alarm of embarrassment to  conventional political forces who believe in throwing stones , burning tyres and imposing their party politics on schools, colleges , universities and even among public servants. This is how Sajha Party wants to lead by example," Dr Surya Raj Acharya, spokesperson of the party told reporters in Kathmandu.
The Directive has barred central member of the party to hold talks with operatives of foreign intelligence agencies. The directive states that party leaders as well as members should get prior permission from the Foreign Affairs department of the Party before meeting officials of foreign embassies as well as foreigners. "They should be accompanied by a leader assigned by the Party."
The Directive further states that any meeting with foreign officials should take place either at the party office or at a 'neutral' venue.
Any event related to politics and finance will have to be cleared by party officials after which the party's foreign affiars department will decide if it wants to send its members or not.
If the directives are not followed, the department will ask for a written explanation after which it will decide if the offence is punishable or not.