Wolverhampton Council of UK establishes friendship ties with Arjundhara Municipality of Nepal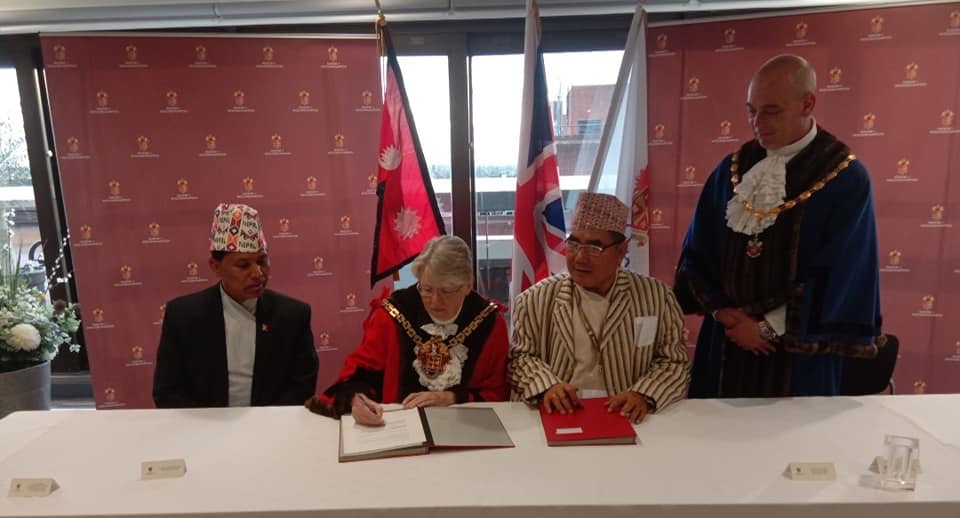 Jagan Karki, London– A formal city relationship has been established between UK's one of the historic industrial Councils, the home of Great Western Railway and one of the beautiful municipalities of the Himalayan nation with natural beauty and cultural diversity.
We were delighted to welcome the Nepalese Ambassador, His Excellency Dr Durga Bahadur Subedi, and guests this evening to meet @wolvesmayor as the City of Wolverhampton entered into a formal friendship agreement with the Nepalese City of Arjundhara #Nepal ?? pic.twitter.com/8ZALitOZuV

— Wolves Council (@WolvesCouncil) July 17, 2019
The sister city relationship between  the Wolverhampton Council and the Arjundhara Municipality of Jhapa District, Nepal,  was formally signed on 17th of July by Civic leaders of both of the Cities, Mayor of Arjundhara Municipality, Hari Kumar Rana and Mayor of Wolverhampton Council, Claire Darke.
Mr. Rana who was welcomed in the Heathrow International Airport by the Ambassador of Nepal to the UK, Dr. Durga Bahadur Subedi on 16th of July,was invited to the UK for signing the friendly agreement.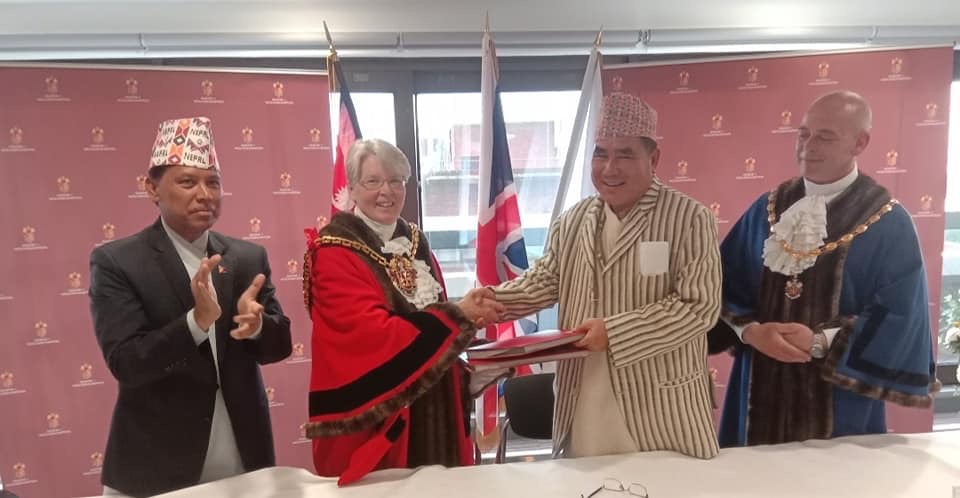 This friendly ties between two diverse and multicultural cities has been designed to support and forge educational,commercial and cultural ties..
Proposals for the link-up was made by the Ambassador of Nepal to the UK,Dr.Subedi to the former Wolverhampton Mayor, Councillor Phil Page (Lab. Bilston North), while the Mayor was attending a special ceremony at the Embassy of Nepal hosted by  the Nepalese Ambassador.
Wolverhampton Council's Deputy Managing Director Mark Taylor told Birmingham mail, "The purpose of this agreement is to create a framework for collaborations between both parties with a view to establishing friendships and promoting social, cultural, educational, commercial tourism and technical co-operation."
"We are hoping to promote co-operation in various areas such as infrastructure, service delivery, planning, and governance. We will be arranging exchange visits between the elected representatives of both cities as well as community groups."
"It is generally about strengthening ties between both our jurisdictions. The Ambassador for Nepal has already formally submitted the proposal to his Government and it has been approved."
A number of events were proposed to mark the official agreement, including the Council hosting a dinner for a Nepali delegation on Wednesday, which has been commenced and formally signed by both the Mayors on the eve.
The Nepali Embassy in London is set to host a celebratory ceremony along with traditional Nepalese cultural performances and a typical Nepalese dinner  which will be attended by the Leader of Wolverhampton Council, Councillor Ian Brookfield (Lab. Fallings Park), Mayor Cllr Claire Darke (Lab. Park Ward) and Deputy Mayor Cllr Greg Brackenridge (Lab. Wednesfield South).
Nepal and Britain have maintaining close,cordial and mutually rewarding friendship which spanned more than 200 years and the Gurkhas are contributing to Britain since long. We already have a special ties with Britain however this kind of sister city relationship among local entities will help promote tourism,trade,education and culture as well as to enhance people to people ties.. This will also help in strengthening the bilateral relations of both countries at  the local government levels. I am hoping to have such friendly relationship among other more cities of the UK and Nepal in the days to come, Ambassador Dr. Subedi told South Asia Time.