Nepali ambassadors to Europe call for concerted approach to economic diplomacy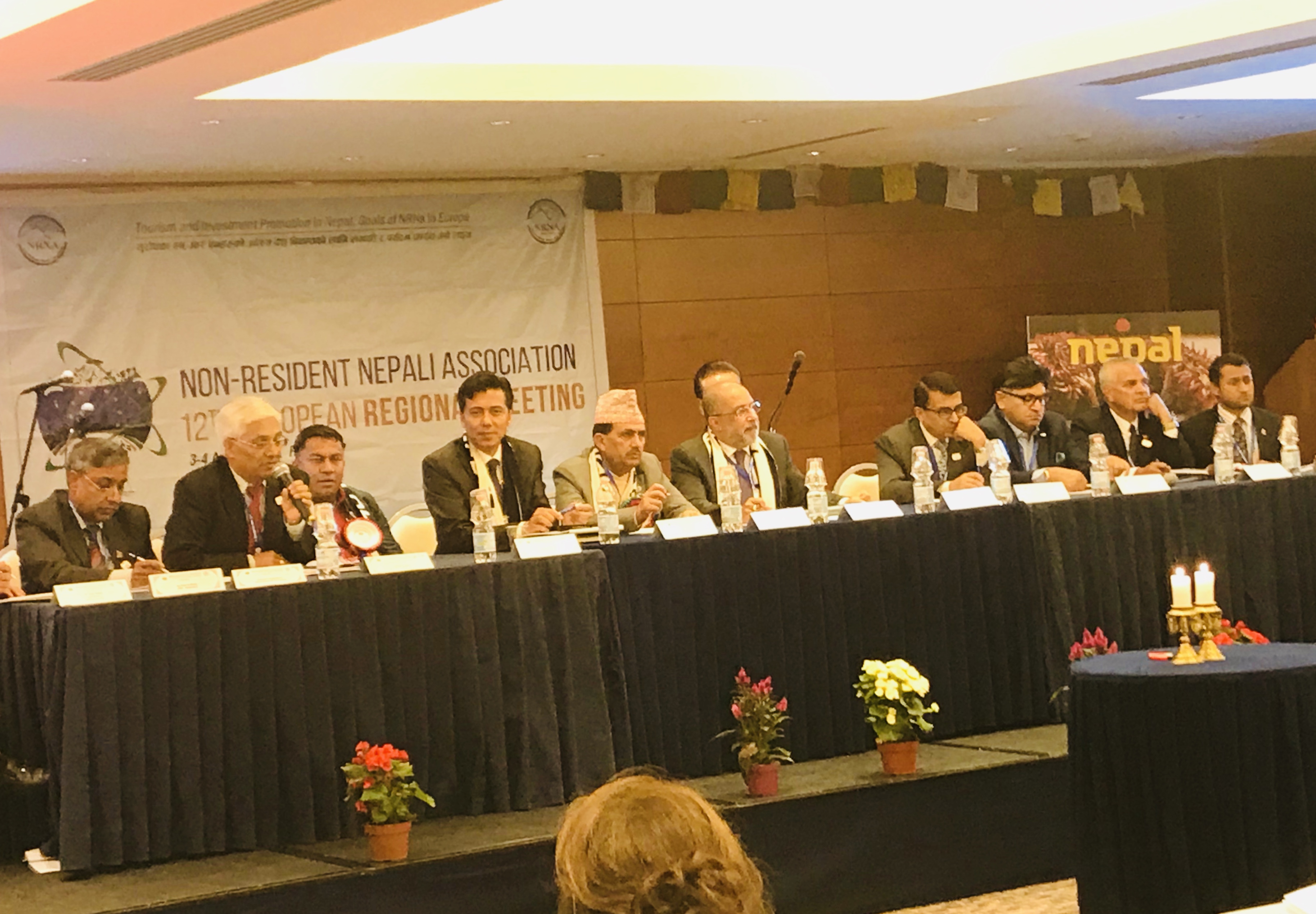 Bhagirath Yogi in Rome—Nepali ambassadors serving in European countries have called for a concerted approach to economic diplomacy.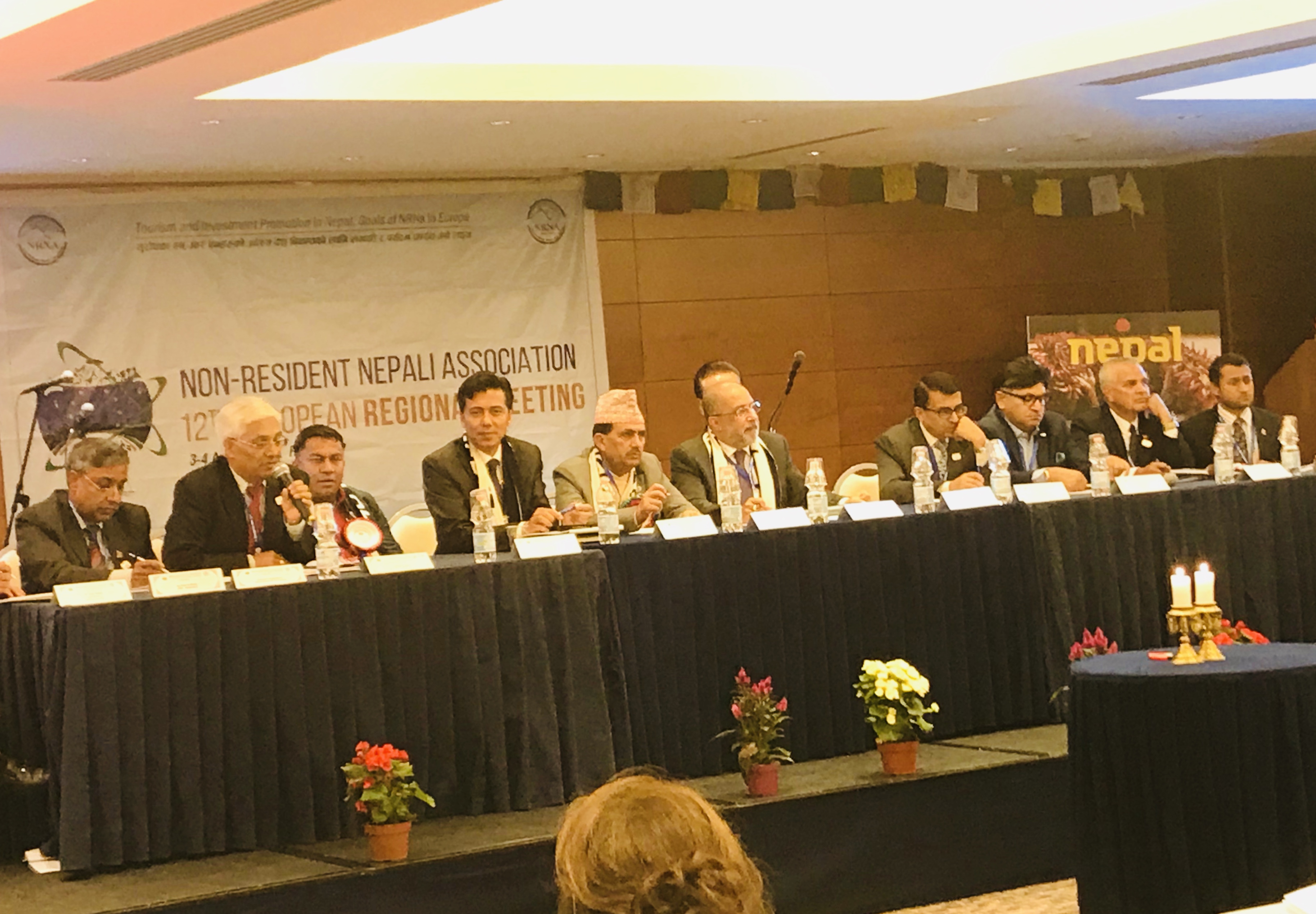 Addressing a panel session on "Economic diplomacy of Nepal in Europe," organised on the occasion of the 12th Europe Regional Meeting (ERM) of the Non-Resident Nepali Association (NRNA)on Saturday, Nepali ambassadors said Nepal must improve its manufacturing base and develop new tourism products to promote exports and attract tourists into the country.
Nepal's ambassador to Germany, Ramesh Prasad Khanal, said Germany was the third largest export destination for Nepali products last year. "Bilateral trade with Germany stood at 100 million Euro last year but Nepal's share is only 20 percent. While the government investment from Germany is coming through KFW and GIZ, private investment in negligible."
Mr Khanal informed that last year more than 40,000 Germans visited Nepal. "Hamburg University is working to preserve Sanskrit archives in Nepal while 1,700 Nepali students and scholars are studying in Germany. We are planning Entrepreneurship Dialogue in Berlin next year. We have also signed a framework agreement to study air pollution in Kathmandu," he added.
Nepal's envoy to the European Union (EU), Lok Bahadur Thapa, said European Union is a big market for Nepal and that Nepal should aim at getting EU aid for connectivity and grid development, among others.
"Cambodia exports nearly 5 billion euro worth garments to EU every year, but we lag far behind. There is a huge information gapfrom both the government and private sector. We lack comprehensive partnership, joint collaboration and whole-up govt approach at the same time our resources are not properly utilised," said Ambassador Thapa adding, "We should also look at the individual member states besides negotiating with the EU."
Mr Thapa said tackling climate change was a priority area for the EU and Nepal should focus to gain from that . He also informed that on the eve of the Visit Nepal Year 2020, Nepal was lobbying with the EU to remove restrictions on Nepali airlines companiesfrom flying to European countries.
Nepal's ambassador to Russia, Rishi Ram Ghimire, said though trade volume has slightly gone up with Russia, Nepal had trade deficit with Russia. "Russians enjoy adventure tourism and 10,400 Russian tourists visited Nepal last year. We tried to send some 100 Nepalese to work in the garment industries in Russia but that did not materialise mainly due to language problem and lack of skilled manpower." He urged Nepal's private sector to be more proactive to promote trade relations with Europeancountries.
Good news came from the United Kingdom. Representing Nepal's Ambassador to the UK, Dr Durga Bahadur Subedi, Second Secretary at the Nepali Embassy in London, Laba Subedi, said that Nepal enjoyed trade surplus with the UK.  "UK is a major development partner of Nepal and major Nepali exports to the UK include garments, carpet, tea and coffee. Some 50,000 British tourists visited Nepal last year and we are working on to increase the number next year," he added.
Mr Subedi also informed that Gurkhas represent the bedrock of bilateral relations between Nepal and the UK. He said some 1,200 Nepali doctors, 500 nurses and 1,000 Nepali engineers were working in the UK and some 40,000 Nepalese were working in the security sector. Over 200 Nepali restaurants were promoting Nepal through Nepali cuisine. British companies have invested in hydropower, tourism, banking and other sectors and major investors include Standard Chartered Bank and Unilever, he added.
Moderator of the session and Nepal's ambassador to Austria, Prakash Suvedi, said there was huge goodwill towards Nepal and the Nepalese in Austria. "Austrian experts are working on to conserve cultural heritage in Nepal. Modern Nepali art exhibition is taking place in Vienna right now. A leading hydro company based in Austria is a major player in Nepal also."
Saying that Nepal could benefit from UN agencies like UN Commission for International Trade (UNCITRA) and International Atomic Energy Agency (IAEA) based in Vienna, Ambassador Suvedi said IAEA was working in the areas of agriculture, animal husbandry, energy and health, among others. "We need to work towards gaining maximum benefit out of multilateralism," he added.  
Nepal's envoy to Denmark, Yubanath Lamsal, said that Nepal's diplomatic efforts should be based on 4 Cs— critical thinking, creativity, communication and collaboration. "The main challenge for us is how to brand Nepal? Besides branding Nepal as a country of Mount Everest and the birth place of Lord Buddha, we should also introduce Nepal as one of the most inclusive and progressive democracies in the world."
Ambassador Lamsal said his mission was working on to promote Nepali products like handicrafts, tea and coffee in Denmark and seven other European countries. He also informed that FinnAir is likely to introduce direct flight to Nepal from next year.
Nepal's envoy to France and Portugal, Deepak Adhikari, said France was a major development partner for Nepal and French people love Nepal a lot. He said 32,000 French tourists visited Nepal last year. "Some 89 million tourists visited France last year. Nepal can learn from France to promote tourism," said Adhikari adding, "Tackling climate change is a major priority area for France. Nepal as an almost zero carbon emitting country, prospect of collaborating with France was huge."
Deputy Chief of Mission at Nepal's Permanent Mission to the UN in Geneva, Tirtha Raj Wagle, said that Geneva was home of UN agencies like OHCHR, IOM and WHO. "We are leading the Trade for Aid initiative (EIF) since September this year. We are member of the UN Human Rights Council and have been lobbying for implementing the 2030 agenda also known as the Sustainable Development Goals," said Wagle adding, "We are working on to promote bilateral relationship with Switzerland including  promoting transfer of technology, tourism and investment from Switzerland."
Charge d'affaires at the Nepali embassy in Spain, Harihar Kant Poudel, said Nepal's mission in Madrid was established just two years ago and was working on to promote trade, tourism and investment between the two countries. He said the embassy was trying to rope in top Spanish footballers and take them on a trip to Nepal. He also informed that sister city relationship had been set up between Madrid and Kathmandu Metropolitan City and Development Cooperation Agreement was signed between Madrid and Lumbini municipality.
Coordinator of the Visit Nepal Year 2020 Campaign, Suraj Vaidya, was bit critical of Nepal's efforts towards economic diplomacy. "We are not clear towards our priority. While Vietnam and Bangladesh have emerged as major exporting countries, Nepal lags far behind. What's our policy?," asked Vaidya adding, "We must have clarity what type of investment we are looking for and from where ."
Mr Vaidya,  who is also former President of the Federation of Nepalese Chambers of Commerce and Industry (FNCCI),  added that countries like Cambodia, Laos and Bangladesh were giving so many incentives to attract foreign investors.  "Nepali embassies abroad were under-resourced and under-staffed. They need to be properly resourced. We must have a vision and strategy to promote Nepal as a preferable investment destination," he added.
Chair of the Session, Minister for Law, Justice and Parliamentary Affairs, Bhanu Bhakta Dhakal, said the government is working to promote Nepal as an attractive investment destination.
"Nepal organised Nepal Investment Summit early this year and policy and legal reforms are underway.  We want to become a middle income country by 2030 and for this foreign investment is a must," said Minister Dhakal. He also urged the Non-Resident Nepalese to invest in Nepal and also play the role of a bridge between foreign investors and the government of Nepal. "The NRNs are our  goodwill ambassadors and this is the right time to invest your skills and resources in Nepal," he added.
Some 400 NRNs from 28 countries of Europe are taking part in the two-day meeting.