Non-resident Nepalis from Gulmi aid landslide survivors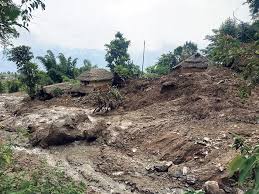 Lisbon, RSS– Non-resident Nepali people have aided the landslide survivors of Satyawati rural municipality in Gulmi.
The Gulmi Society Poland has extended assistance amount of Rs 217,500 while Portugal-based Gulmi Society has channelized the support of Rs 71,500 for landslide victims.
Rs 5,000 each was provided to seven families of the deceased of the rural municipality and remaining Rs 274,551 was handed to the Disaster Management Fund.
A team comprising Gulmi Society Poland vice-president Bidur Sharma, Bilal Poudel and Deviram Ghimire, teacher of Tribhuvan Secondary School Dadhiram Sharma, social worker Hari Sharma, businessperson Bipin Gurung, among others reached the landslide victims' house for relief distribution, shared Amrit Rijal, senior vice-chair of Gulmi Society Portugal.