Chinese language, culture contest attracts over 750 Nepali school students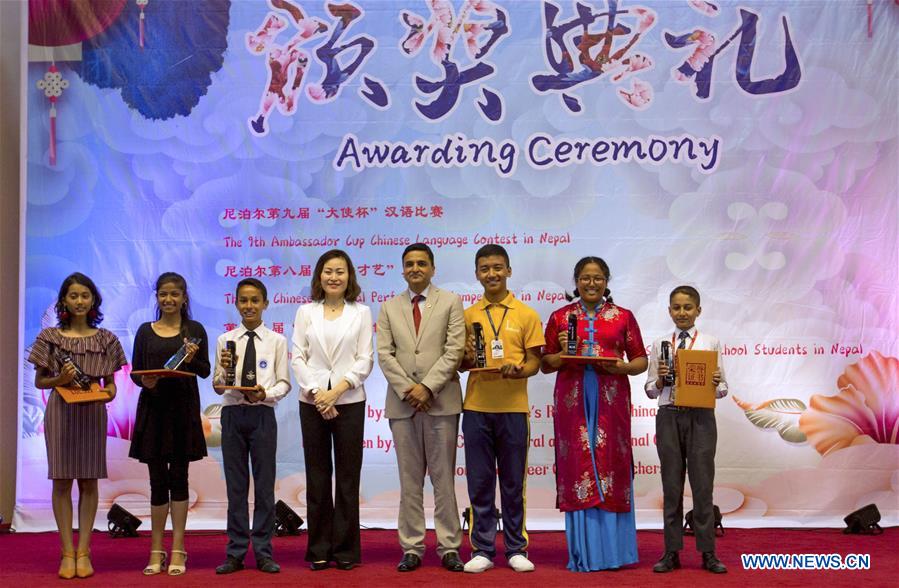 KATHMANDU, Xinhua — More than 750 primary and secondary level students from 65 schools in Nepal participated in this year's Chinese Bridge, a Chinese language and cultural performance competition, which was held in Nepal on Tuesday.
Amid a special function organized in Kathmandu, the winner students were awarded with certificates and trophies by the Nepali Minister for Culture, Tourism and Civil Aviation Yogesh Bhattarai and Chinese Ambassador to Nepal Hou Yanqi.
Addressing the awarding ceremony, the Nepali minister said that such competitions are important to produce skilled students, who could highly contribute in the tourism sector in the future.
"At a time when Chinese tourists' arrival is growing significantly in Nepal, we need more Nepali guides who can speak Chinese language. To address such demand, such competitions are very important," the minister said.
Bhattarai also expressed the hope that more Chinese tourists would visit the Himalayan country during Visit Nepal Year 2020.
On the occasion, Ambassador Hou said that such educational and cultural contests are a good platform to understand China. Stating that students are the future of the country, she expressed hope that the students would work as ambassadors and contribute to strengthening the bilateral relations between Nepal and China.
Altogether three competitions namely the 9th Ambassador Cup Chinese Language Contest, the 8th Chinese Cultural Performance Competition and the 12th Chinese Bridge Proficiency Competition for Foreign Secondary School Students were organized by the Chinese Embassy in Nepal.
10th grader at DAV School Aayushma Dhungana was one of the participants, who stood second in the cultural competition. She also performed a Chinese song in the ceremony.
Dhungana has been learning Chinese language for four years.
"I had participated in this competition in previous years as well, but I finally win a prize this year. I am very happy," Dhungana told Xinhua after receiving the award.
Chinese language has gained much popularity in Nepal lately, where many schools across main cities offer Chinese language lessons to Nepali students by Chinese volunteer teachers.
Besides Chinese language, Chinese cultural activities like dance, martial arts, calligraphy among others are also popular in Nepal.