Dashain, The biggest festival of Nepal begins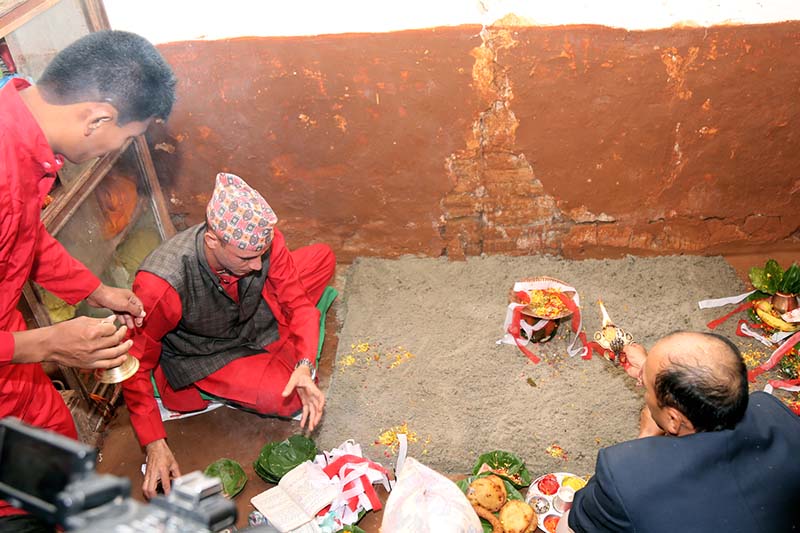 Kathmandu– Bada Dashain, the biggest festival of Nepal has begun. The festival starts on first day of Navaratri with Ghatsthapana .
Devotees performed Ghatsthapana and sowed maize and barley seeds for germination of the auspicious Jamara (barley shoots) in various parts of the country today.  The germination ceremony of Jamara was also held at famous Hanumandhoka Dashain Ghar in Kathamndu with Vedic rituals.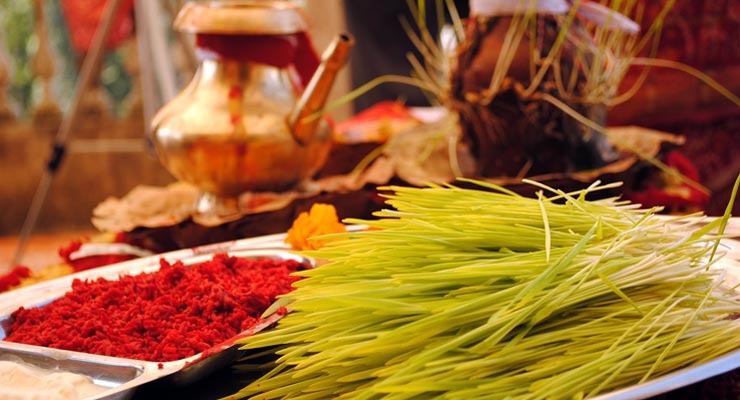 The 15 day festival is celebrated in the month of Ashwin. During Dashain people worship goddess Durga for nine days. On tenth day of festival elders give golden barley shoots and put Tika on the forehead of younger members of the family and bless them for peace, progress and prosperity in the life. People within Nepal and abroad visits their native places to celebrate Bada Dashain festival with their family and friends.
According to Nepal Panchanga Nirnayak Samiti, , following Ghatasthapana, the most suitable time for replacing national flags hoisted in government offices is 10:25 am on September 29 (Wednesday).
Similarly, this year's Pachali Bhairav Jatra will be celebrated with the procession of goddess Taleju Bhavani on October 3. Similarly, the auspicious time for bringing Fulpati to the Dashain Ghar at Hanumandhoka is 8:52 am on October 5.
Likewise, October 6 and 7 will mark Mahaashtami and Mahanavami respectively. Tika or Vijaya Dashami, the main day of Dashain will be celebrated on October 8.
Though tika can be received and offered from the day of Vijaya Dashami to Kojagrat Purnima, the most auspicious time for receiving and offering tika is 10:35 am on Vijaya Dashami, NPNS said.
According to popular Hindu myth, Goddess Durga had killed the demon king Mahishasur on Mahanavami and Vijaya Dashami symbolises the victory of good over evil.
During Navaratra, devotees visit the temples of the goddess of power.
About 10 days of Dashain festival 
The first day of Dashain is known as Ghatasthapana, on this day, people fill a vessel with sand and sow maize and barley seeds and is covered and worshiped for 10 days.
On the seventh day, Phulpati is celebrated which is also known as 'Saptami'.
The eight day is regarded as Maha Aastami. On this day, animals like buffaloes, ducks, goats, hens are sacrificed to Goddess Kali and the meat is taken as 'Prasad' (holy food). The night of this day is called the dark night- 'Kal Ratri'. Maha Navami is the ninth day of Dashain. On this day, craftsman, mechanics, traders etc worship their equipment and tools by sacrificing different animals and offering it to equipment.
The tenth day is named as Vijaya Dashami which is the most important day of this festival. On the tenth day, younger ones in a family receive Tika (a mixture of yogurt, rice and vermilion), Jamara (planted on the first day of Dashain) and blessings from elders as well as respected people.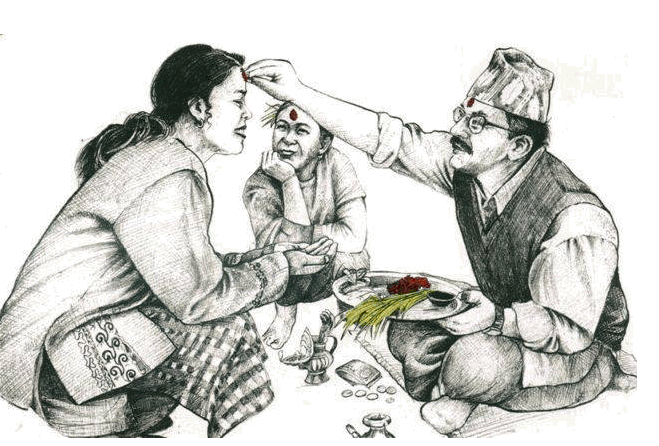 This festival is in fact the ceremony of reunion and fun. People living far away from home or homeland, revisit their home and get together with their families. Similarly, parents buy new clothes to their children. People enjoy eating mouth-watering foods and playing a lot of games including cards. People invite guests, organize feast, visit their relatives' houses, fly kites, build bamboo swings and get involved in various entertaining activities.