Eight persons including six Nepali nationals killed in a road accident in UAE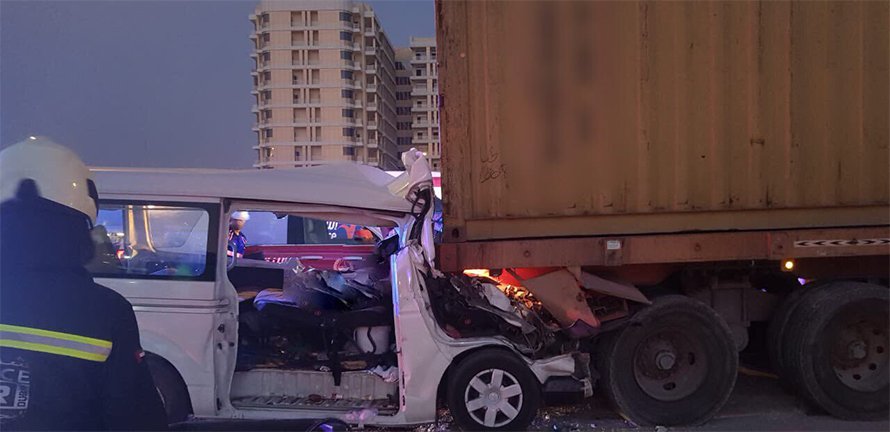 Dubai– Eight people were killed and six seriously injured on Monday morning in a traffic accident involving a minibus on Mohamed Bin Zayed Road, Gulf News reported.
Brigadier Saif Muhair Al Mazroui, director of Dubai Police Traffic Department, said they received a report of an accident between a mini bus and a truck on Shaikh Mohammad Bin Zayed road before Mirdif City Centre towards Sharjah.
"The mini bus crashed into the back of a halted truck on the right road shoulder. The mini bus was trapped under the truck. Eight were killed, two seriously injured and two others sustained moderate injuries. All were transferred to Rashid Hospital," Brig Al Mazroui said.
"The mini bus was carrying 13 passengers and the driver, which caused major fatalities. Accidents involving trucks or buses always result in deaths and serious injuries."
The bodies of eight people have been shifted to the mortuary, social worker Nasir Vatanapally at Rashid hospital, Gulf news reported.
"The injured are still in emergency ward. Police haven't still revealed the named and details of the victims, but according to them, there are Pakistanis and Indians involved in the accident. We hope all details will be revealed soon," he said.
Nasir Vatanapally said the eight dead included six Nepalese, one Indian and one Pakistani. Barring one of the injured who is from Bangaldesh, the remaining five are from India.
The driver and seven passengers were killed in the traffic accident, while four others sustained serious injuries and two others suffered moderate injuries.
According to the Nepal Embassy Dubai, six people who were  killed  in the accidents are :  Ramesh Chaudhari, Danbahadur Satyal, Krisha Bahadur Pun, Narayan Prashad Pokhrel,  Dipak BK, and Nayaram Saud.
The vice president of Non Resendintal Nepalese Association ICC , Mr Kul Acharya has expressed his deep condolence to the victims. He has also urged the Nepalese community as well as the Nepal Embassy Dubai to support the victims in this sad incidece. He has also urged the entire Non Residential Nepalese community worldwide to be ready to support the victims and their family.