Lahore's air quality worst in the world, Delhi second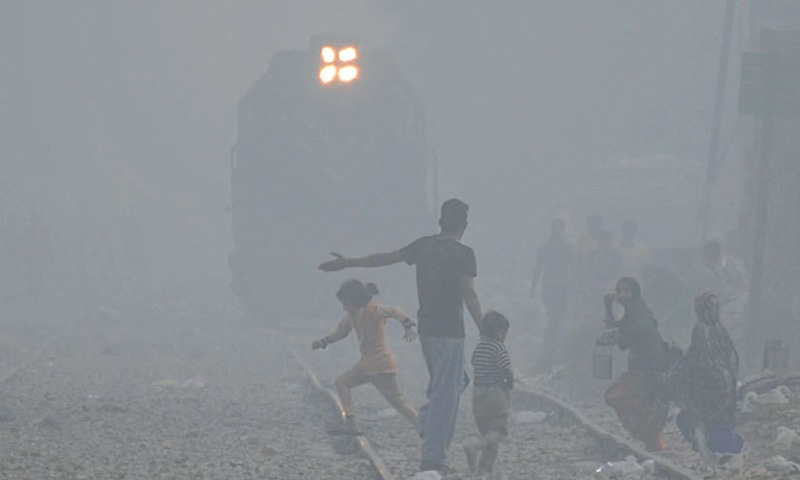 London — Most South Asian cities have been struggling with air pollution, according to a real-time air quality ranking report by IQ Air Visual.
On Friday, November 2, Lahore became the most polluted city in the world with an Air Quality Index (AQI) rate of 383. As of today, it's almost reached an AQI rate of 540, which makes it 'hazardous' according to the report. Additionally, in some districts, the AQI rate has reached more than 600.
Lahore  is followed by New Delhi, the Indian city with an overall AQI rate of 255. Similarly other South Asian city Kathmandu has ranked 13th with 127 points.
The index measures the air quality of the cities based on live tracking of the AQI all over the world. The AQI takes into account five main pollutants – particulate matter with a diameter less than 10 micrometres (PM10), PM2.5, ozone (O3), nitrogen dioxide (NO2), and carbon monoxide (CO).
Based on the classification of tracked data, AQI determines the quality of air in seven categories.
0-50: Good
51-100: Satisfactory
101-200: Moderate
201-300: Poor
301-300: Very Poor
401-500: Severe
500 and above: 'Severe-plus emergency'
Amnesty International Raised the concern on air quality of Lahore :
The Air Quality Index (AQI) in Lahore reached 484 at 10am Pakistan time today. The threshold for "hazardous" levels of air quality is 300, where people are advised to "avoid all physical activity outdoors".
"The high level of smog is neither a new problem, nor one that came without warning. The government of Pakistan needs to do much more to adequately address such a severe public health crisis – one that endangers people's health and even their lives," said Rimmel Mohydin, South Asia Campaigner at Amnesty International.
There is something very wrong when the air becomes so toxic that you cannot breathe without hurting yourself
Prolonged or heavy exposure to hazardous air can result in severe health issues including asthma, lung damage, bronchial infections and heart problems and shortened life expectancy – putting at risk people's rights to life and to health, as well as the right to a healthy environment.
The so-called "smog season" is where poor fuel quality, uncontrolled emissions and crop burning worsens the quality of the already unhealthy air, from October to December.
According to the 2015 findings of the medical journal Lancet, a whopping 22 percent of annual deaths in Pakistan are caused by pollution, and the majority of those are due to air pollution.
Low income workers, such as labourers, construction workers and farmhands, and marginalized groups are particularly vulnerable as the nature of their work forces them to be exposed to hazardous air throughout the day. The fact that health care is not easily affordable to all means that only those who can afford it will be able to access health care and other preventative measures to mitigate the effects of breathing in hazardous air. Low visibility can also result in accidents and loss of life.
Warmer temperatures, a direct result of climate change, create an environment for smog formation and can lead the air to stagnate – preventing dirty air from leaving an area.
"Air pollution and the climate crisis are intricately linked. It exacerbates existing inequalities and paves the way for human rights violations. If authorities continue to stall making concerted efforts to address the smog crisis, it will continue to devastate human life," said Rimmel Mohydin.
The court-appointed Smog Commission made a number of recommendations in May 2018 including the immediate adoption and implementation of the Punjab Clean Air Action Plan, establishing Smog Response Desks at district levels, adoption of appropriate technologies that reduce emissions of harmful pollutants from brick kilns. Those have only been partially implemented, if at all. Real-time data from the Environment Protection Department on air quality remains unavailable to the public and no efforts are being made to switch to higher quality fuel.
A fundamental shift needs to take place across Pakistan's industrial, agricultural and transportation practices, to make sure they are consistent with people's human rights.
"There is something very wrong when the air becomes so toxic that you cannot breathe without hurting yourself. The government can no longer afford to waste time while people are choking to death," said Rimmel Mohydin.