Ex-British Gurkhas' concluded conference on 'Human Rights for Equality and Dignity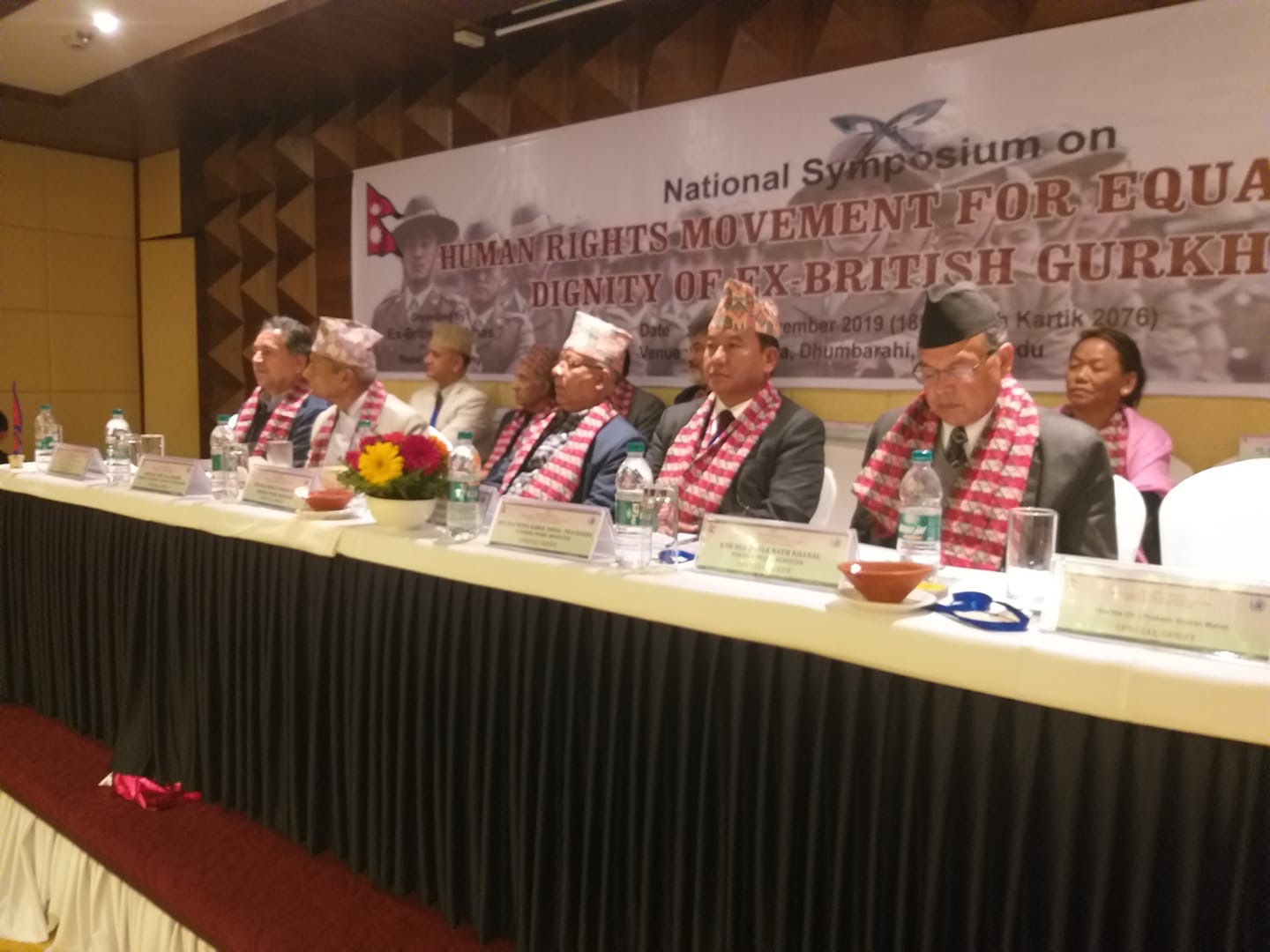 Kathmandu — Ex-British Gurkhas' has organised  a two-day national conference on 'Human Rights Movement for Equality and Dignity along with  the British Gurkha community and Nepali civil society.
The main objective of the declaration is to uphold the equality and dignity of Nepali citizens, who have served and are still serving in the British Army, stated the declaration. Imposition of Indian Pay Code on British Gurkhas after 1948, which came in the name of Tripartite Agreement 1947, but with mutual understanding between India and Britain, was absolutely unfair, against the sovereignty and independence of Nepal and incompatible with international laws, read the declaration.
"It is a matter of tremendous regret to witness the fact that thousands of Gurkha ex-servicemen have been victimised by hardship and destitution as a result of discriminatory and unjust treatment continuously perpetrated by the British Government from 1948 to 1997," the declaration read.
Struggle for equality and dignity spearheaded by ex-Gurkhas against discriminatory and unfair treatment will continue at national as well as international levels in the form of patriotic movement, and a campaign dedicated to human rights and dignity of Nepali citizens who served and have been serving in British Army, will be launched as stated in the declaration.
Ex-Gurkhas have demanded prompt dialogue between the Government of Nepal and the British Government on the report prepared by the technical committee that comprises of the ambassador of Nepal for UK, minister of defence (UK) and representatives from British Gurkha ex-servicemen's associations, which was established to address the concerns raised by the British Gurkhas ex-servicemen. For this purpose, the Government of Nepal will be requested to recognise the report, introduced on March 15 by the International Relation Committee of the Federal Parliament of Nepal, as a guiding instrument.
"If, all these efforts failed to draw the attention of the British Government and if still remained indifferent, the movement against discrimination and injustice on Gurkha ex-servicemen will be developed as an international human rights campaign. To make such movement successful, the ex-servicemen community may establish 'an international human right campaign coordination committee for the justice meted out to ex-Gurkha servicemen. The committee will build up an international campaign," stated the declaration.
According to the declaration, by following the process of Universal Periodic Review, it may draw the attention of the UN Human Right Council towards the injustice and discrimination against Gurkha ex-servicemen and their families. "In order to provide adequate compensation to the family of those soldiers who had lost their lives during wars, the Government of Nepal must start dialogue with the British Government," said Gurkha ex-servicemen gathered at the event.
The conference also demanded the British Government to address all types of discrimination and injustice against Gurkha ex-servicemen, the Himalayan time writes.