Emirates survey giving away 500 tickets is fake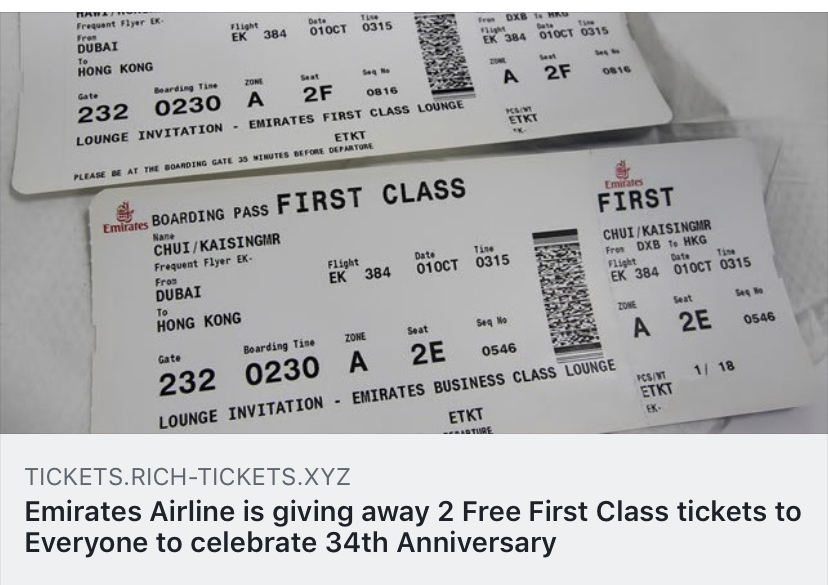 Dubai: UAE residents have been warned of fake online surveys that promise to give away hundreds of free tickets from Emirates, Gulfnews Reported.
The Dubai-based carrier issued an alert on Thursday, advising social media users that fraudulent online posts have been doing the rounds in WhatsApp and other platforms, enticing people to participate in competitions or surveys in exchange of a free ticket.
In one of the posts that have gone viral, scammers claim that Emirates is "giving free tickets to 500 people" to celebrate New Year. The same post, bearing an Emirates logo, was later updated on Thursday to read "We are giving free tickets to 500 people to celebrate our anniversary."
Recipients are then enticed to answer some questions first, a common phishing technique that often tricks people into providing credit card or other personal information.
Before you share anything or believe in what you've just read, check the URL. When you look closely at the address, you may notice that the web link is a little odd. So, if your go-to website is ThisIsMycity.com, you should be very suspicious when you come across a link that's spelled slightly different.
There could be a small spelling change or registration with a different domain.
2. Don't just click on every post on your news feed, pop-up windows, suspicious WhatsApp messages or forwarded attachments
Oftentimes, it's hard not to resist clicking on messages that purportedly offer freebies .
Don't get too excited and click away, unless you're certain the post is from a trusted source. Don't click on the forwarded link or post, go directly to the official site or social media account to verify if it's true.
Most fraudulent posts bear the brand name of a prominent company. Look for any telltale signs you're seeing a fabricated logo. Emirates' official account on social media, for example, is marked with a blue tick.