Nepal clinch historic title of Asian Senior Women Central Zone Volleyball Championship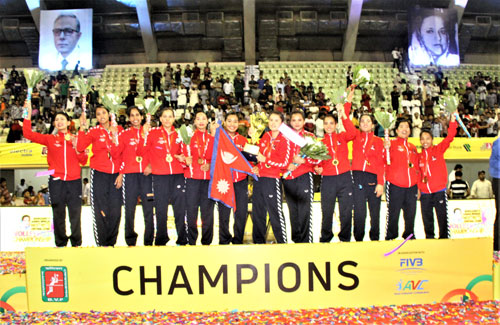 Dhaka — Nepal emerged as the undefeated champion of the Bangamata Asian Senior Women's Central Zone Volleyball Championship, the country's first ever international title, after beating Maldives by 3-0 sets in the final Thursday.
Host Bangladesh finished fourth after losing to Kyrgyzstan by the same margin in the third place decider in the day's first match at the same venue of Shaheed Suhrawordi Indoor Stadium in Mirpur, Dhaka.
Newly formed Bangladesh women's team concluded the inaugural edition of the tournament with two wins, over Afghanistan and Kyrgyzstan, in the round-robin league opening round, Dhaka Tribune reported.
Bangladesh defeated Kyrgyzstan by 3-2 sets in their last match of the group stage the previous day but couldn't script another comeback yesterday as they lost all three sets by 13-25, 14-25 and 12-25 points.
Nepal  head coach Jagadish Prasad was an excited and proud man after the final.
He said, "I'm so happy for winning the first ever international gold medal in Nepal volleyball. This is a historical moment for the country and that came after the game was declared the national sport two years ago. The volleyball activities increased and the performance bettered after it became national sport. Now we are more confident ahead of the SA Games at home."
Nepal's Pratibha Mali was adjudged the best attacker of the tournament.
The 18-year old top volleyball player of the country expressed their dream to win gold in the 13th SA Games, scheduled to be held in Kathmandu and Pokhara from December 1-10.