Nepal leading the SAG medal list, 73 percent are the women to bag the medal for Nepal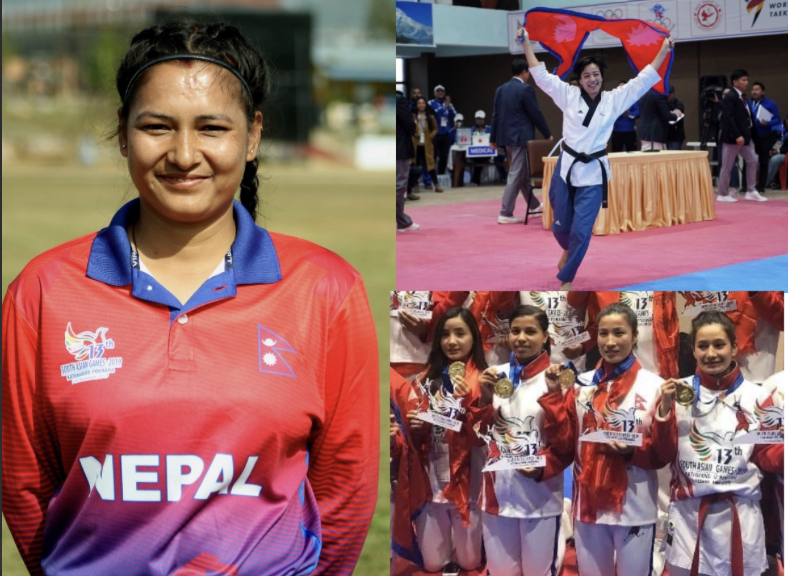 Kathmandu— Nepal has so far secured a total of 23 gold, seven silver, and nine bronze medals in the ongoing 13th South Asian Games being held in Kathmandu, Pokhara and Janakpur.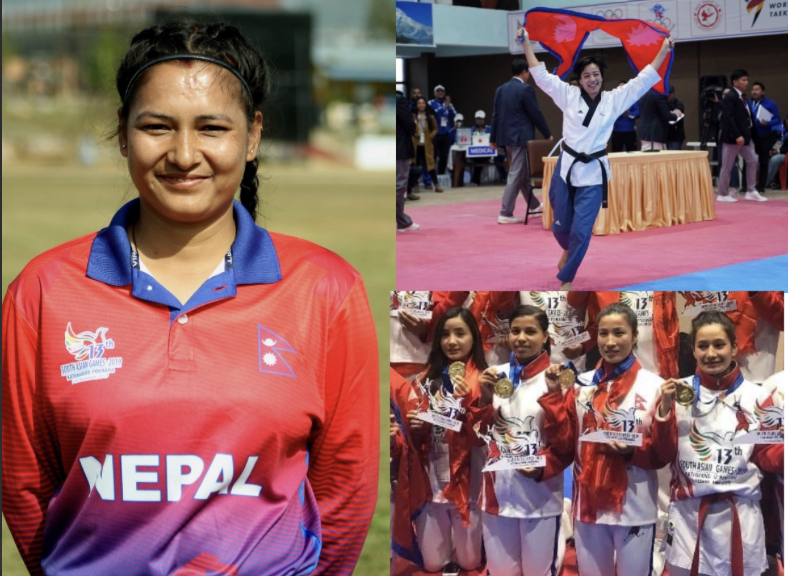 There are 17 women to bag a Medal among total 23 medal won by Nepal which is 73 percent of women dominance.
Nepal's Sunita Maharjan defeated her Pakistani opponent and won the gold in Kumite of Karate under 68-kg category with 8-2 points at Nepal Karate Academy in Satdobato, Lalitpur on Tuesday, the Himalayan Times reports.
Nepal's Anjali Chand took six wickets without conceding any runs against Maldives to help her team register an emphatic win by 10 wickets.
Chand's six wickets for no runs came in 13 balls and included a hat-trick for the 24-year-old debutant.
Maldives were bowled out for 16 in Pokhara and hosts Nepal took just five balls to chase that down for the win.
Malaysia women's Mas Elysa held the previous T20 bowling record after taking 6-3 against China in January.
Likewise, women's football team of Nepal defeated Sri Lanka by one goal to nil in the first match of women football championship, held in Pokhara.
Saru Limbu had managed to score during the 88thminute of the game.
List of gold medal-winning players from Nepal:
| | |
| --- | --- |
| Name | Category |
| 1.    Soni Gurung | Triathlon |
| 2.    Anu Adhikari | Karate |
| 3.    Kusum Khadka | Karate |
| 4.    Mandekaji Shrestha, Pravin Manandhar, Mahasus Tamang | Karate team-men |
| 5.    Sangeeta Magar, Saru Bista, Nirmala Tamang | Karate team-women |
| 6.    Lakshman Tamang | Karate |
| 7.    Biplav Lal Shrestha | Karate |
| 8.    Aayesha Shakya | Taekwondo |
| 9.    Kamal Shrestha | Taekwondo |
| 10.  Nisha Darnal, Swastima Tamang, Sanjila Timilsina, Parvati Gurung | Team category |
| 11.  Sanjib Kumar Ojha, Aayesha Shakya | Taekwondo team pair |
| 12.  Sina Maden | Taekwondo |
| 13.  Parvati Gurung | Taekwondo |
| 14.  Kamal Adhikari | Taekwondo |
| 15.  Mandekaji Shrestha | Karate |
| 16. Himal Tamata | Duathlon |
| 17. Bijay Sinjali | Taolu, Changqang Wushu |
| 18. Susmita Tamang | Taolu, Changqang Wushu |
| 19. Nabin Rasaili | Karate |
| 20. Santoshi Shrestha | Athletics |
| 21. Sunita Maharjan | Karate |
| 22. Kajal Shrestha | Karate |
| 23. Bir Bahadur Mahara | Taekwondo |