Police shoot dead four men suspected of Hyderabad rape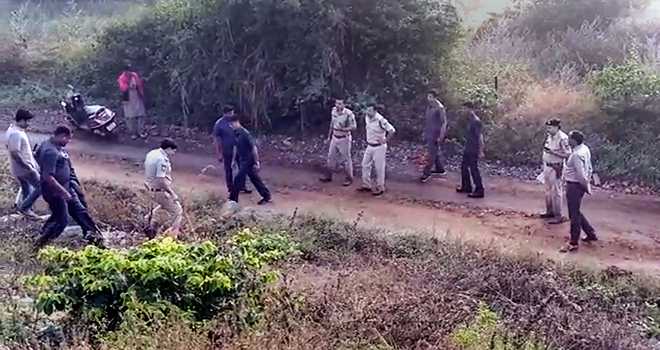 Hyderabad — The Cyberabad police informed that all the four accused in the ghastly rape and murder case of a Hyderabad veterinarian have been killed in an encounter.
On Wednesday (27 November) night, a 26-year-old veterinarian went missing from Shamshabad toll plaza near Hyderabad, local  Swarajyamag reported.
According to the police, the four accused – a truck driver and cleaners – had slashed the tyres of her scooter, and then pretended to help her. She was subsequently gang-raped, and the accused burnt her to death to destroy any evidence. The victim had called her sister expressing her fear before the ordeal. Her burnt body was recovered the following day.
The incident caused a nation-wide outrage and Telangana Chief Minister K Chandrashekar Rao had on Sunday (1 December) announced setting up of a fast track court for expeditious trial and assured all help to her family.
Based on inputs from people, clues from the crime scene and CCTV footage, the police were able to nab all the four accused identified as truck driver Mohammed Arif, 26, Jollu Shiva, Jollu Naveen, and Chintakunta Chennakeshavulu, all 20.
The were in judicial custody and lodged in high security cells in Cherlapally Central Prison amid high security and additional police deployment.
The police then took the four accused to the crime spot for a recce to recreate the crime scene. This is when the four tried to escape, according to the police, and the cops had to open fire.
Reportedly
, the accused had also tried to snatch the weapon of the police and three police personnel had sustained injuries.
The encounter took place at Chatanpally near Shadnagar, where the 26-year-old victim's charred body was found in the wee hours, between 3 and 6 am.
Father of the victim responded to the killings of the accused in a police encounter, expressing his gratitude towards Telangana government. " This is not justice…our daughter is lost to us forever. But, this is relief," he said, adding, "Police had told us they will take immediate action. And they did."
After the news of the deaths of the accused broke out, many expressed satisfaction. However, others warned against the 'police encounter' as a short-cut to justice avoiding the due process of the law.
The mother of Nirbhaya welcomed the encounter and demanded that no action be taken against the cops, "I am extremely happy with this punishment.Police has done a great job & I demand that no action should be taken against the police personnel".