Nepal to add more border outposts along Nepal-India border side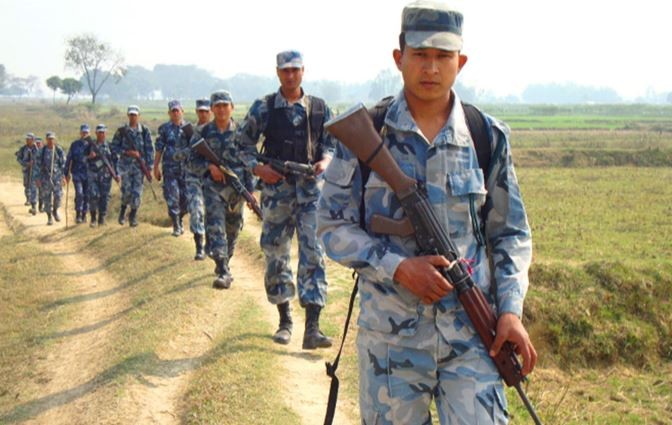 Kathmandu : Armed Police Force (APF), a paramilitary force of the country, is searching for public land to set up their border outposts (BOPs) in the Terai and some mountain regions.
Establishing the BOPs in the Terai and high mountain regions in the northern border has remained a major concern to Nepal after India unilaterally issued their official map of the country incorporating Nepal's northern territories inside India, the national daily Risingnepal reports.
The APF has been failing to find right lands to set up their BOPs along Nepal-India border in Kailali district.
"We are at present searching for lands to set up additional BOPs in Kailali," Superintendent of Police Kamal Timilsina of No. 34 Battalion stationed in Dhangadi, said.
One hundred and one kilometer land area is bordered with India in Kailali district.
At present, there are only three BOPs of the APF in Kalilai for border monitoring task. They are in Fulbari, Lalbojhi and Khakraula.
However, the Bharatiya Seema Surakshya Bal (SSB) has set up their 21 BOPs along India-Nepal border.
According to DIG and spokesperson of the APF Suraj Kumar Shrestha, the APF has been preparing to set up six BOPs in Kailali. The proposed places include Bangara Katan, Jugeda, Khonapur, Bhuinyafanta, Hikmatpur and Sri-Lanka Tapu. "We are searching for proper land to set up our BOPs there and we are yet to get the lands," Shrestha said.
The APF is also going to establish four BOPs of permanent nature in the northern part of the country within the current fiscal year.
DIG Shrestha said, "We are preparing to establish the BOPs targeting the northern border points after the Ministry of Home Affairs and the Ministry of Finance took a decision to this effetc."
The four new BOPs of the APF are to be set up at Kimathanka of Sankhuwasabha, Lo Manthan of Mustang, Hilsa of Humla and Chhangru in Darchula districts.
He said the government had also given mandate to establish BOPS in the northern belt of Darchula.
DIG Shrestha said that the APF was conducting a feasibility study in order to establish BOPs in Tinker area of Limpiyadhura region which is a tri-junction of Nepal, India and China.
The decision to establish such BOPs in the country's northern border has been made at a time when Kalapani dispute between Nepal and India is boiling up.
India's new political map released on November 2 has included the territory of Kalapani inside the Indian map, igniting protest across Nepal.
The land encroachment is supposed to have taken place due to the absence of Nepal's BOPs in its northern points.
The APF has 107 BOPs in total in the Terai districts as of now.