Nepal Police Nabs 4 Bangladeshis Dealing In Counterfeit Bank Notes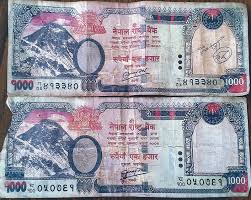 RSS, Kathmandu :    Police have arrested four Bangladeshi nationals dealing in counterfeit bank notes of Rs 1,000 denomination.
A team from Metropolitan Police Circle Thimi arrested them today. Those arrested in this connection include 41-year-old Ali Ahamad, 21-year-old Robel Mikda and 21-year-old Mohammad Ullaha from Netrakuna of Bangladesh and currently residing in Lokanthali, Madhyapur Thimi-1.
Police apprehended one Suman Khan, said to be the main accused, from Town Planning Pepsicola. He had been hiding there.
Chief of the Metropolitan Police Sector Bhaktapur, Sabin Pradhan said that necessary legal action has been forwarded against the four accused.
Police had launched a manhunt based on information that a 26-year-old Suman Khan of Faridpur, Bangladesh and presently living in Lokanthali, Bhaktapur had on December 19 absconded after handing over Rs 2,000 counterfeit notes to the shopkeeper after purchasing some goods at Paridhi Gift Shop based at Madhyapur Thimi Municipality-1.
Police seized 16 units of fake bank notes of Rs 1,000 denomination from his room while conducting a search there. Three of his friends who lived together with him in the room were arrested. Suman worked at the Laxmi Tailoring Shop at Lokanthali, according to police.