Tourism Minister led "Visit Nepal" rally stopped by Sydney City security officers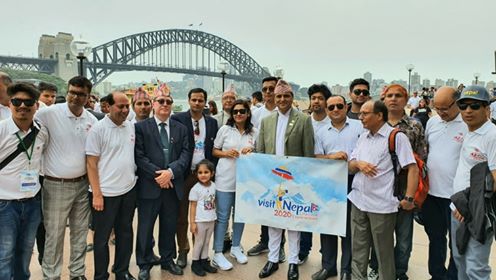 London — Local police in Sydney have stopped a rally in the city aimed at publicising the Visit Nepal 2020 campaign.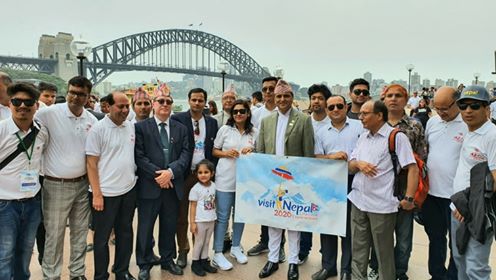 The rally, which had to be cancelled after the city council said it could not go on because the organisers had not sought government permission for the event.
The rally was being organised with a commercial motive and as a large number of people were participating, it would create obstacles for pedestrians, New South Wales police said.
The visit courted yet another controversy after security personnel in Sydney stopped a rally organized to promote much-talked-about Visit Nepal Year 2020, Australia-based news website southasia.com.au reported on Tuesday.
According to the report, the organizers had not taken permission to march a rally which was being led by Minister Bhattarai. Nepali Ambassador to Australia Mahesh Raj Dahal, Consul Consul General of Nepal in NSW Deepak Khadka and Consul General of Nepal in Victoria Chandra Yonzon were accompanying the minister during the rally.
However, Minister Bhattarai wrote on Facebook that the news reports regarding the tourism campaign were misleading and aimed at hurting ties with Nepal's friendly partner Australia. "Such misleading reports also tarnish our country's prestige," he said.