Two double amputees, Hari and Justin, successfully climb Mt Kilimanjaro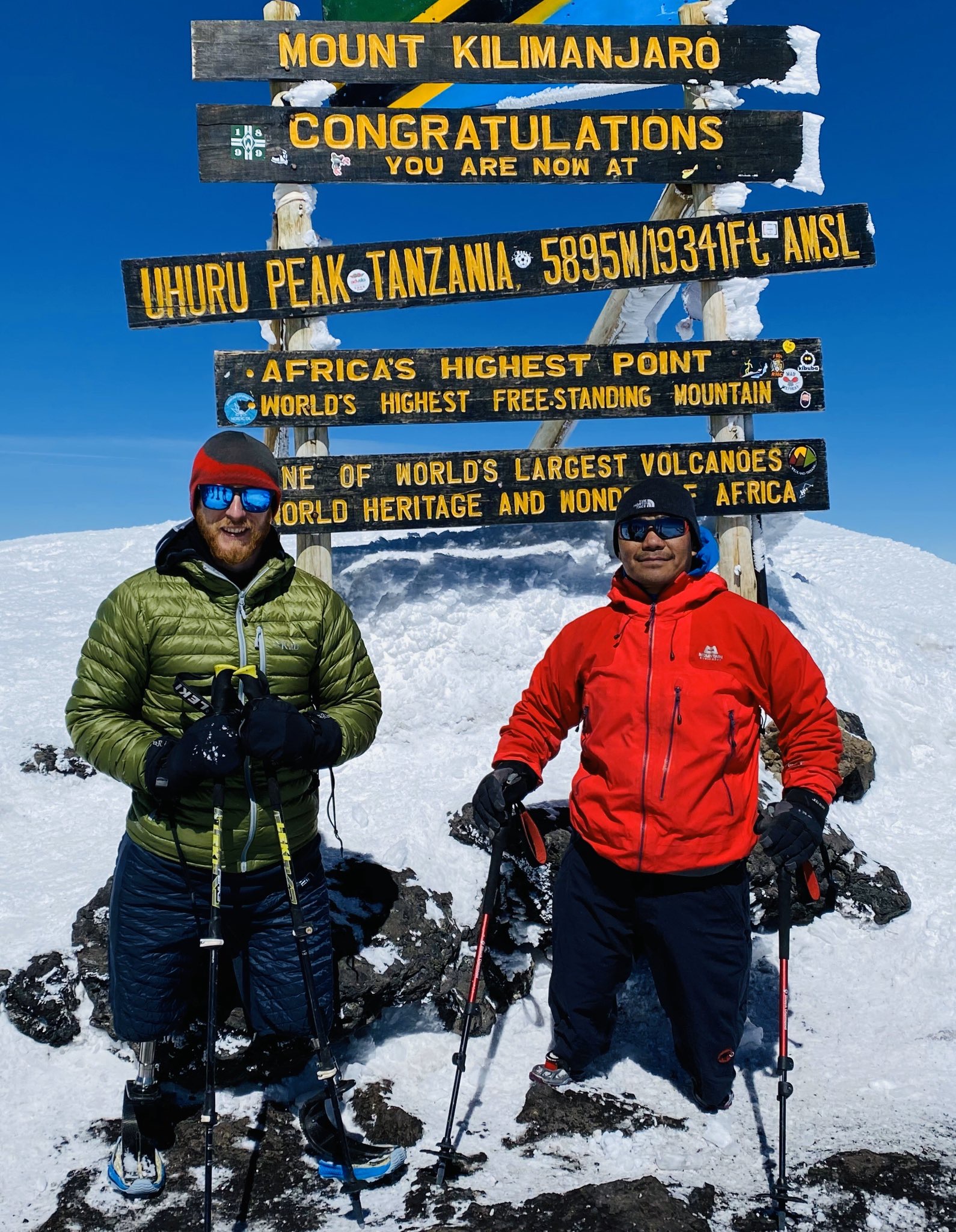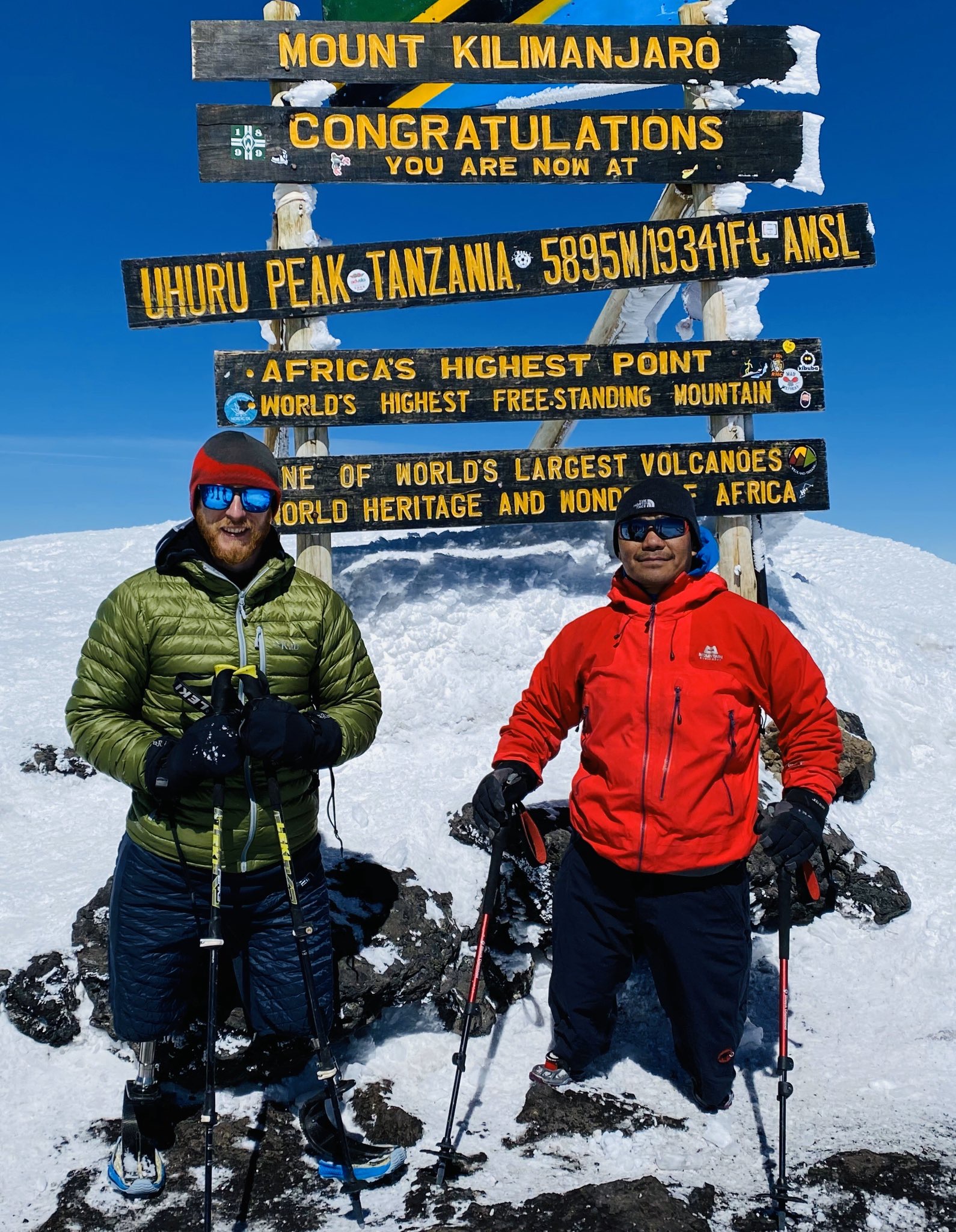 London—Ex-Gurkha, Hari Budha Magar, and ex-British Army soldier, Justin Davis, have  summited 5895 metre high Mt. Kilimanjaro,  the tallest mountain of Africa.
Hari and Justin both served in Afghanistan; Hari serving with the Royal Gurkha Rifles and Justin with the 2 Rifles. Both veterans lost their legs above the knee after IEDs were triggered and detonated.
I and my friend Justin Davis has summited Mt. Kilimanjaro 5895m the tallest mountain in Africa. We are both double above knee amputees. We were here to test our mind, body, emotion, kits, equipment, technology, team and limit. pic.twitter.com/d3NSM1nHml

— Hari Budha Magar (@Hari_BudhaMagar) January 10, 2020
"We were here to test our mind, body, emotion, kits, equipment, technology, team and limit. Thank you HST Adventure and Twende Africa for putting a team together to make this expedition successful."  Hari said in his Facebook post.
He also thanked his team, Conquering Dream, and, To The Test, for allowing him to do this. "I also thank everyone around the world who have been supporting me in so many ways over the years," he added.
It took them  6 days to cover 56km distance of the height of the mountain.
"I never walked this long after losing legs and never used crutches. I and Justin had to focus on every single step and work our way one step to another. Every part of our body is painful, many blisters in our hands, nose and face are peeling, our prosthetic legs are muddy, dusty and got icy. We didn't come here to chill out, we came here to struggle, challenge and come out of our comfort zone," Hari has written.
"Justin and I both believe that giving up should not be the option. Blaming someone, moaning and complaining won't take us to any better place. Let's get on with it and focus on what we got and can do with our lives, " Hari added.
"We are grateful that we are still alive. Justin is set to climb Mt. Elbrus In Russia in July and I am set for the Mt. Everest in Spring 2020," Hari said.
Hari already has a world record of first bilateral above knee amputee to climb 19,000ft.
In 2017, former Gurkha @Hari_BudhaMagar became the first bilateral above knee amputee to climb above 19,000 ft – and now his next challenge is to climb Everest.

Speaking to @KayBurley, he said he believes "nothing is impossible".

Watch more videos ? https://t.co/ey5aLf5AMO pic.twitter.com/E8rQJcTLJ5

— SkyNews (@SkyNews) December 12, 2019
This is what Hari has written:
Disability – I'm doing this for disability awareness because my life was changed in the blink of an eye, this is not my choice but this is what it is. We can't run away with some problems but to face/challenge it in positive way. There are so much discrimination and stigma against people with disability around the world due to lack of awareness, so I am here to break the barriers, challenging myself and changing lives.
Communities – My communities where my route lies, my identity is from and I live my day to day life with my family. But it's also where the problem lies, minds are developed and for some future holds. The better people in communities make better communities, so I am trying to be a better person and trying to make my communities proud.
Gurkhas & British Army – This was my profession. One-Day a Gurkha, Always a Gurkha. Some of my friends may confuse between Gurkhas and British Army, so clarifying (that) Gurkhas are a part of British Army. I served 15 years with this one of the most reputable institutions in the world and lost my both legs and sustained other multiple injuries but I have no regrets (and) I'm very proud.
Nepal & the United Kingdom – I was born and grew up to the age of 19 in Nepal, I haven't given much to my country but I have dedicated some time of rest of my life to my motherland. I believe some of my time will change some lives in Nepal but also I will make Nepali people proud and (portray) Nepali identity in a positive way. I will always be Nepali but I served for the United Kingdom for 15 years and gave my both legs, why? I do little bit history but I simply don't know and there is many politics goes around it and my job isn't taking you that way. But what I know is I wanted a better life for me and opportunity for my family. Being honest (and) putting hands on chest, this is how I ended up in the United Kingdom. …. I am very proud of serving for the United Kingdom and (the UK has) given me the opportunity to serve the people around the world in many different ways.
It's time for me to give something back to Nepal, United Kingdom and world through climbing mountains. My next stop is Mt. Everest, so please help me in whatever way you can, so we can help others.
These are what makes me the person Hari Budha Magar. Whatever happens in life, it happens for good if we take (it in a ) positive way. Life is very short "Let's live our life than survive."
To support Hari Budha Magar for his journey to Mt. Everest you can click on the following link :
https://www.justgiving.com/crowdfunding/hari-everest