18 people are killed in Nepal due to road crashes every day, a new study says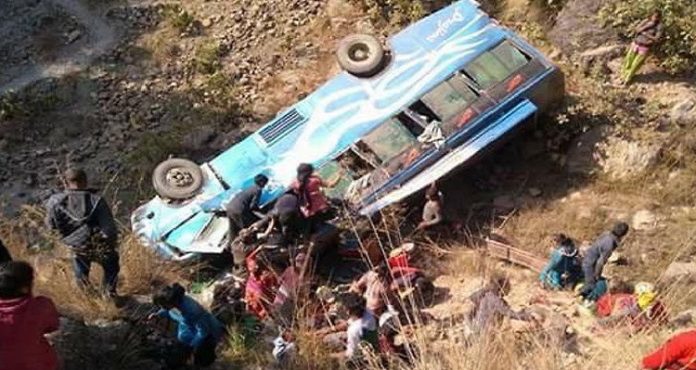 London– Up to 18 people are being killed in Nepal due to road crashes every day, a new study published in the prestigious British Medical Journal Injury Prevention has said.
This figure is three times more than average official estimate of death due to road crashes in Nepal.
A new study on burden of injuries in Nepal by the Researchers of the University of West of England and the University of Washington reveals that transport injuries altogether killed 3,394 people aged 15-49 years in Nepal – 9% more than that from HIV/AIDS, Tuberculosis and Malaria combined in the year 2017. The study used the Global Burden of Disease 2017 study data, estimated that there were 16,831 deaths caused by all kinds of injuries in 2017.
The Burden of Injuries in Nepal 2017 study has documented that Injuries remain an important cause of morbidity and mortality in Nepal, with transport injuries (45%) and falls (18%) being prominent causes of death in the country. Intentional injuries, mainly self-harm (suicides), also contribute a considerable burden (14%). According to the findings, transport related injuries claim 7,524 lives in a year (that is, more than 20 deaths every day) followed by 6,465 unintentional injuries (including deaths from falls, drowning, poisoning, fire burns etc) and 2,842 intentional injuries (including interpersonal violence, assaults and suicides). These figures are equivalent to a death rate of 56.3 per 100,000 population; with much higher rate for male population i.e. 76.2 per 100,000.
Talking to South Asia Time, UWE Research Fellow and lead author, Dr Puspa Raj Pant, said, "This is the situation of public health emergency in Nepal. We have been reading news of deaths and injuries along Nepal's roads and other environments every day but little has been done to address the problem. This must be addressed urgently in a coordinated way by the top leadership of Nepal. The time for action is now."
Dr Pant said that this is the first time that an account of the burden of all kinds of injuries – transport injuries, unintentional injuries and intentional injuries–for Nepal have been published as a single manuscript.
According to the World Health Organisation, "Injuries are caused by acute exposure to external energy interacting with the body in amounts or at rate that exceed the threshold of human tolerance. In some cases, injuries result from the sudden lack of essential agents such as oxygen of heat."
The study also provides separate estimates for 6 sub-categories of transport injuries: pedestrian road injuries (48%), motor vehicle road injuries (18%), motorcyclist road injuries (17%), cyclist road injuries (6%), other road injuries (1%) and other transport injuries (10%). However, according to the Police records, only 2,451 people were killed (6.7 per day average) and 12,391 injured from 10,965 incidents of road crashes occurred during 2017/18 in the country. This number is much lower compared to road traffic deaths of 6,787 (18.6 per day average) estimated by this study.
Causes behind road traffic deaths in Nepal
The growing number of motorised vehicles, with majority of motorised two-wheelers, poor quality of roads that lack pavements for pedestrians, poor enforcement of traffic rules, and lack of road safety interventions and awareness have been suggested as possible explanations for increasing road traffic deaths in Nepal. Similarly, distracted driving – using mobile phones while driving, and driving under the influence of alcohol and drugs may also have further augmented the risk of road crashes and injuries.
"Obviously, there is an urgent need and very strong demand for improving road safety in Nepal and the very first this needed is demonstrable commitment for road safety by the government leadership; and the things will move forward,"  said Dr Pant.
The study also described the deaths and injuries due to unintentional injuries such as falls (45%), drownings (15%), injuries caused by venomous and non-venomous animals (7%), burns (6%), exposure to mechanical forces (5%), forces of nature (2%), poisonings (1%) and all other unintentional injuries cause 19% of total unintentional injury-related deaths. According to the World Health Organisation (WHO), the factors of fall injuries in population are associated to occupations, use of medications, alcohol and substances, underlying medical conditions, medical conditions that diminish balance and vision, and surrounding environment. Rising elderly population in Nepal can also be associated to increasing fall injuries.
Likewise, this study included self-harm or suicide (82%), inter-personal violence (17%) and conflict related injuries (1%) under the sub-group of intentional injuries. Although the GBD study design incorporated sophisticated statistical modelling technique, it is still possible that the true burden of intentional injuries is underreported, particularly among the females of reproductive age.
Indicating the urgent need for addressing the problem of injuries, the lead author Dr Pant said, "There is no doubt injuries are hindering our aspirations of achieving Sustainable Development Goals with their negative impacts on health as well as wealth of the nation. There is a strong need of recognising this problem as a major public health challenge and for very strong political commitment for its prevention and control."
The study team comprised of Dr Spencer James from University of Washington, Institute of Health Metrics and Evaluation (IHME); Dr Santosh Bhatta, Mr Amrit Banstola and Professor Julie Mytton from the University of the West of England, and 8 Nepali Collaborators of the GBD 2017 study.
The full text of the study can be accessed at https://injuryprevention.bmj.com/content/early/2020/01/08/injuryprev-2019-043309