Three Nepalese women died in Abu Dhabi bus crash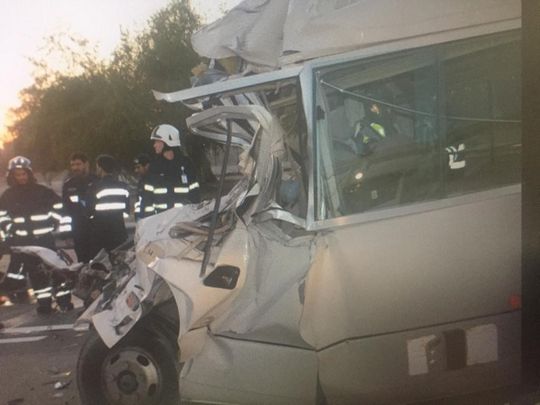 Abu Dhabi— Sixteen Nepalese residents were among the injured in a traffic collision in Abu Dhabi that left six people dead on Thursday morning, a top Nepalese official has said.
Of the dead five were women, one from Nepal and one from Sri Lanka, while the bus driver was a Pakistani male. The nationalities of the other three victims was not confirmed till yesterday.
According to a video released on social media by Abu Dhabi Police, a white sedan nearly stopped on the rightmost lane, forcing two lorries to abruptly slow down. A bus that was unable to slow down then rammed into the second lorry, and it is believed that the victims were passengers on the bus.
The source said a few of the victims had already been discharged after being treated for minor injuries. Information on where the Nepalese victims were employed, and their ages, is still unavailable.
A police statement released on the incident reported six deaths and 19 injuries.
According to a statement from  Nepal embassy UAE three Nepalese women were among the 6 to lost their lives in the accident. Among the dead three Nepalese women were Krishna Murari Adhikari from Jhapa , Bhawana Kunwar from Pyuthan, Amisha Moktan Tamang from Bara district of Nepal.
The body of these three people will be sent to Nepal after competing formal procedure, the statement  from the embassy says.