Gorkha Municipality and Rushmoor borough to have a formal agreement on friendly affiliation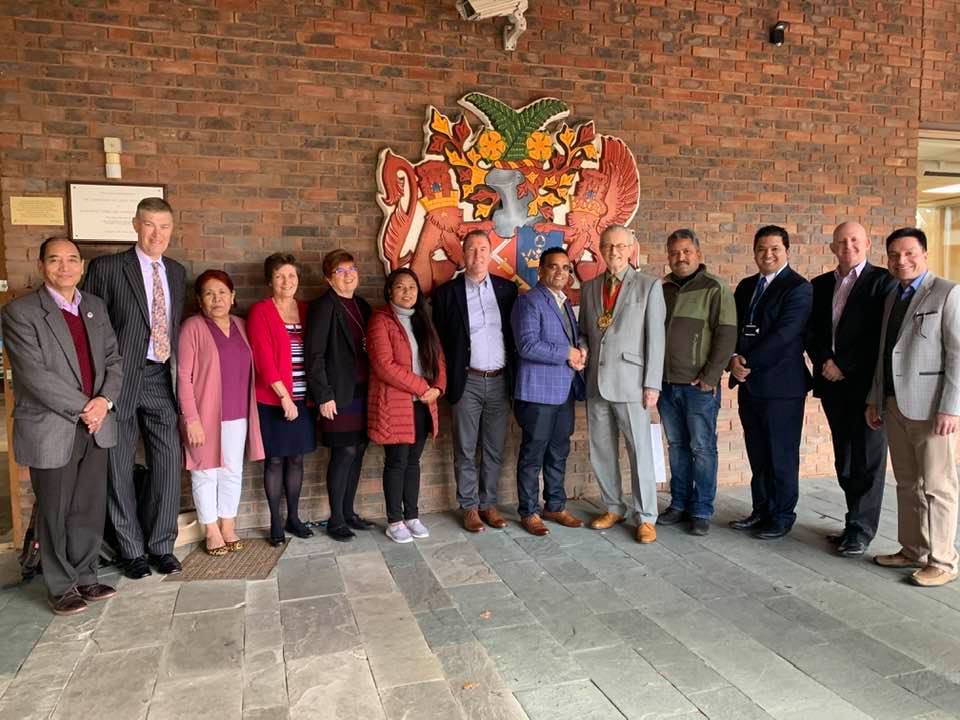 London:  The mayor of the Gorkha Municipality of Nepal Mr Rajan Raj Panta has arrived in the United Kingdom.
Mr Panta along with Admin of the Municipality council Nepal Mrs Krishna Kumari Shresth and the president of Federation of Nepalese Journalist Gorkha Mr. Kishor Jung Thapa in the team to sign the formal agreement to the friendly tie among Rushmoor Borough Council UK and Gorkha Municipality Nepal. All the three members of the Gurkha Municipality were welcomed by Tejendra Regmi, the third secretary of  Embassy of Nepal to the UK,
The council and the Gurkha municipality have agreed to set up new cultural and business links with strong ties to both the army and aviation.
The formal agreement and sign process of the friendly tie among the Gurkha council and the Rushmore borough is set to be held on Thursday  and the Embassy of Nepal to UK has organised a reception and welcome program on Friday evening at the Embassy premises.
The Nepali community has a strong presence in the borough Rush Moore because of the strong Gurkha connection with the Aldershot Garrison and local area. Many Gurkha soldiers who have served in the British Army have originated from Gorkha.
The links will be supported by the existing twinning association set up to encourage and develop such links. The move to strengthen the ties recognises existing cultural and business links. They are different to traditional town twinning and represent a new form of relationship.
Ex President of the Greater Rushmoor Nepali Community (GRNC), Jib Belbase, said: "We are delighted to hear plans to set up these new cultural and friendship links with the Gorkha region are progressing, and the GRNC are proud to have played a role in helping to bring this about. Gorkha is an area of Nepal that many of our former and current Gurkha soldiers have a strong affinity with. Anything which encourages a better understanding, and strengthens ties within the different communities amongst the people of Rushmoor, is very much to be encouraged."